New York Giants Set to Defend Super Bowl Title, But They're Already Winning at Social Media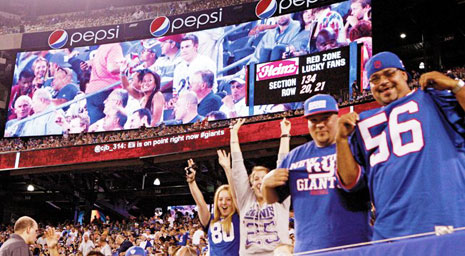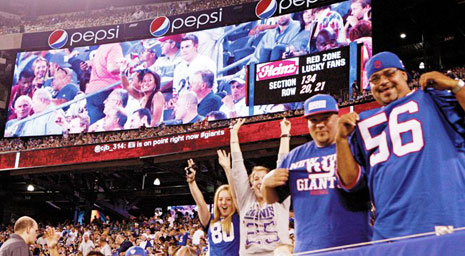 The New York Giants are extending their success on the playing field into the social media field. The popular football team is well aware of the importance of social media in keeping players connected with their fans, providing an ongoing means of publicity and maintaining the team's desired image. As a result, the team has become one of many brands using social media managers to maintain its online image, as well as serve as a liaison with both consumers and marketers, and show the human side of a large organization. To offer an all-star example of how social media can benefit a brand, Adweek.com reported on how the Giants are making all the right social media moves.
The Giants rely on a young man named Nilay Shah to operate as their social media link to fans, sponsors, and media. As the team's community manager, Mr. Shah covers the action at every game from the vantage point of what fans want to see and where they wish they could be.
He takes pictures at the games and tweets the best to fervent followers. He watches all the game-day action from the sidelines and the stands, tweeting highlights to viewers at home who are missing these details due to commercials. He snaps close-up photos at private practices and sends them out to fans who dream about having such exclusive access. The Giants' 327,000 Twitter followers anxiously await his every tweet, which only serves to strengthen the team's brand image and online community.
The Giants have become pioneers in the world of sports social media and have ultimately redefined the nature of football marketing. The team was the first in the NFL to place tweets into game broadcasts and develop a virtual-reality mobile app. This innovative mobile app was a collaboration with Tiffany's that allowed fans to virtually wear a Super Bowl ring, as well as create images of themselves posing with the Vince Lombardi trophy. The app was extremely popular and resulted in 50,000 fan images being posted to the team's Twitter and Facebook pages.
Now, most sponsors want to be included in such social media marketing campaigns and work closely with the team to create compelling social media  initiatives.
"The way sponsors used to want in on an email blast, they now want in on Facebook and Twitter," said Mr. Shah. "We don't want to just slap a sponsor on social media, we want to come up with creative ideas that will get the fans engaged."
One of the Giants' major sponsors, Party City, plans to bring back an enormously successful Halloween promotion that allowed fans to vote for the Halloween costume that linebacker Mark Herzlich would wear to the Joseph M. Sanzari Children's Hospital at Hackensack University Medical Center. A bone cancer survivor himself, Mr. Herzlich's visit was featured on all of the team's digital channels, captured via photos and video, and posted on Twitter and Facebook. The images quickly spread throughout the Web and resulted in one million impressions.
Fortunately, the Giants have the extra advantage of playing in a new state-of-the-art digital arena that provides tremendous digital opportunities to marketers and advertisers. Numerous video screens broadcast real-time tweets from fans and attendees throughout the game, while other screens air promotions for sponsors that often include actual tweets and photos from inside the stadium. Once the game is over, four huge digital pillars outside the stadium ask fans to vote for the day's most valuable player via a Twitter hashtag.
It's easy to see that social media plays a vital role in the Giants' overall business plan. In addition to boosting brand image and growing their fan following, the team is also using social media marketing to increase sales of merchandise and tickets down the line.
From a social standpoint and a business vantage, it looks like the New York Giants are winning at the social media game.
To incorporate Twitter and Facebook into your social media marketing strategy, contact MDG today at  561-338-7797 or visit www.mdgsolutions.com.
MDG, a full-service Florida advertising firm with offices in Boca Raton and New York, NY, specializes in developing targeted Internet marketing solutions, exceptional creative executions and solid branding and media buying strategies that give clients a competitive advantage. Our core capabilities include branding, logo design, creative, digital marketing, print advertising, media planning and buying, TV and radio, website design and development, email marketing, social media marketing, and SEO.
Read more at Adweek.com.