New York Stock Exchange Capitalizes on Content Marketing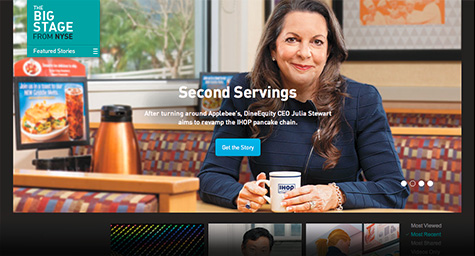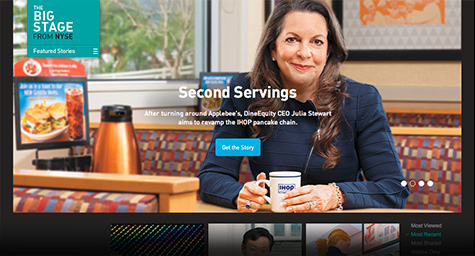 In an effort to shed its traditional image and increase audience engagement, the New York Stock Exchange (NYSE) is advancing in a digital direction with the launch of a content-driven website. This is the company's first venture into content marketing and a majority of its online content is being provided by Time Inc. Content Solutions. Adweek.com posted the details of this digital endeavor to show how the rise of content marketing and social media is redefining marketing for even the most conventional and conservative companies.
The website is called The Big Stage and it's a photo-filled platform similar to today's image-driven mainstream news sites. The site features videos, uplifting profiles, and facts about NYSE-affiliated companies and their executives. There's a mix of lighthearted content, such as their "Second Servings" section which currently spotlights a tough yet tender IHOP executive, and informative articles like "Animal Pharm" which describes how drug company Zoetis is striving to battle the world's animal diseases.
Content for The Big Stage is coming from Time Inc. staffers who were previously assigned to cover the NYSE. These journalists work in the division's brand newsroom to regularly produce content relevant to the NYSE's companies, news, and events. The site is currently posting 25 to 30 pieces of content each week, yet that number is expected to rise. In time, the site may add content from other traditional news outlets.
While The Big Stage focuses on more human interest articles and behind-the-scenes stories than hard-hitting news, it's a prime example of how brands are evolving into publishers and generating content to maximize audience engagement.
"It helps us engage in conversations with our audience and not just market to them," said Marisa Ricciardi, CMO of the NYSE. "I think marketing is best served when it doesn't feel like marketing."
The NYSE's foray into content marketing demonstrates how social media has become an important part of mainstream marketing. Time Inc. relies on social media when developing its content since these social channels convey the topics and trends that have people talking. They point out the most relevant and engaging issues of the day, which publishers use to guide the direction of their content development.
While The Big Stage is sharing stories related to NYSE and corporate happenings, it's not meant to be news site. Instead, it's designed to provide people with a friendly and engaging glimpse into the companies and people driving the American economy.
Learn how content marketing can keep customers coming back for more. Contact  MDG.
MDG, a full-service advertising agency with offices in Boca Raton and New York City, is one of Florida's top content marketing agencies. Our 360° integrated marketing strategies use just the right mix of traditional and digital advertising to reach your goals. Our core capabilities include branding, logo design, creative, online marketing, print advertising, media planning and buying, TV and radio, Web design and development, email marketing, mobile marketing, content marketing, blog writing, social media marketing, and SEO. While some industries may fare better in print and others online, we strive to create a balanced approach, where traditional, digital, and social media marketing efforts support each other and your message is tailored to the medium. To stay on top of the latest content marketing trends, contact MDG.
Read more at Adweek.com.