New YouTube Design Emphasizes Channels and Subscriptions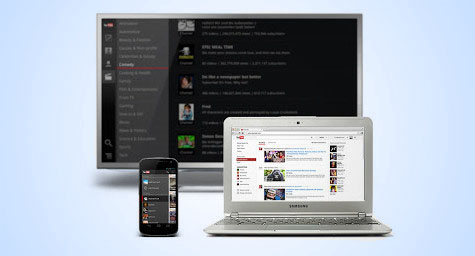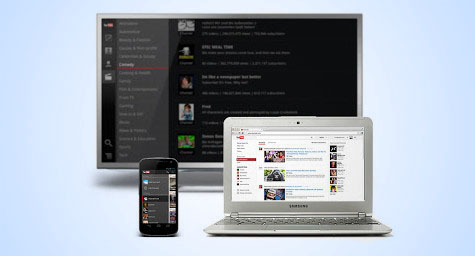 YouTube unveiled some exciting new design updates on the video sharing site that were made to ease and enhance the online experience. These improvements included a new homepage that's more customizable and social media oriented, along with a simplified look of the channels, and a more streamlined design for the overall site. YouTube.com recently detailed these digital changes to highlight their value to viewers and benefits to brands.
1. A More Personal and Social Homepage – YouTube has made it easier than ever to locate and follow channels from the moment of arrival on the site. It's now also possible to sign in, register for an account, and completely customize YouTube's channel line-up directly from the homepage. Even better, visitors can also browse through recommended channels, personalize their home page feeds, and even access their Facebook and Google+ accounts to see what their friends are watching and sharing. Now all of this is possible right on the homepage for a more user-friendly experience that puts fresh branded content front and center.
2. Channels With a Simpler Set-Up – The better homepage layout has also extended to the individual channels. This fresh, new channel design has made it much easier for viewers to seek and subscribe to the videos most interesting to them. New channel templates have also improved the uploading process to meet the specific needs of both video producers and brand partners.
3. A Cleaner and Clearer Site Design – While sprucing up these specific sections, YouTube went all the way by freshening the look of the overall digital design. This can be seen in the simpler layout, larger video thumbnails, more minimal watch page, and unfussy gray background. Now, visitors can have a more enjoyable experience and spend much more time viewing, browsing, and sharing content.
As you can see, YouTube has made some major changes to the design and details of the entire site. These were intended to create a simpler and better experience for viewers, while helping brands get the greatest reach and response from their video content.
To discover how to generate a greater following for your brand through video sharing on YouTube, contact MDG today at 561-338-7797, or visit www.mdgsolutions.com.
MDG, a full-service traditional and digital marketing agency with offices in Boca Raton, FL and New York, NY, specializes in developing targeted Internet marketing solutions, exceptional creative executions and solid branding and media buying strategies that give clients a competitive advantage. Our core capabilities include branding, logo design, creative, digital marketing, print advertising, media planning and buying, TV and radio, video, Web design and development, email marketing, social media marketing, and SEO.
Read more at YouTube.Global.