Twitters Replacement? Meta Introduces Threads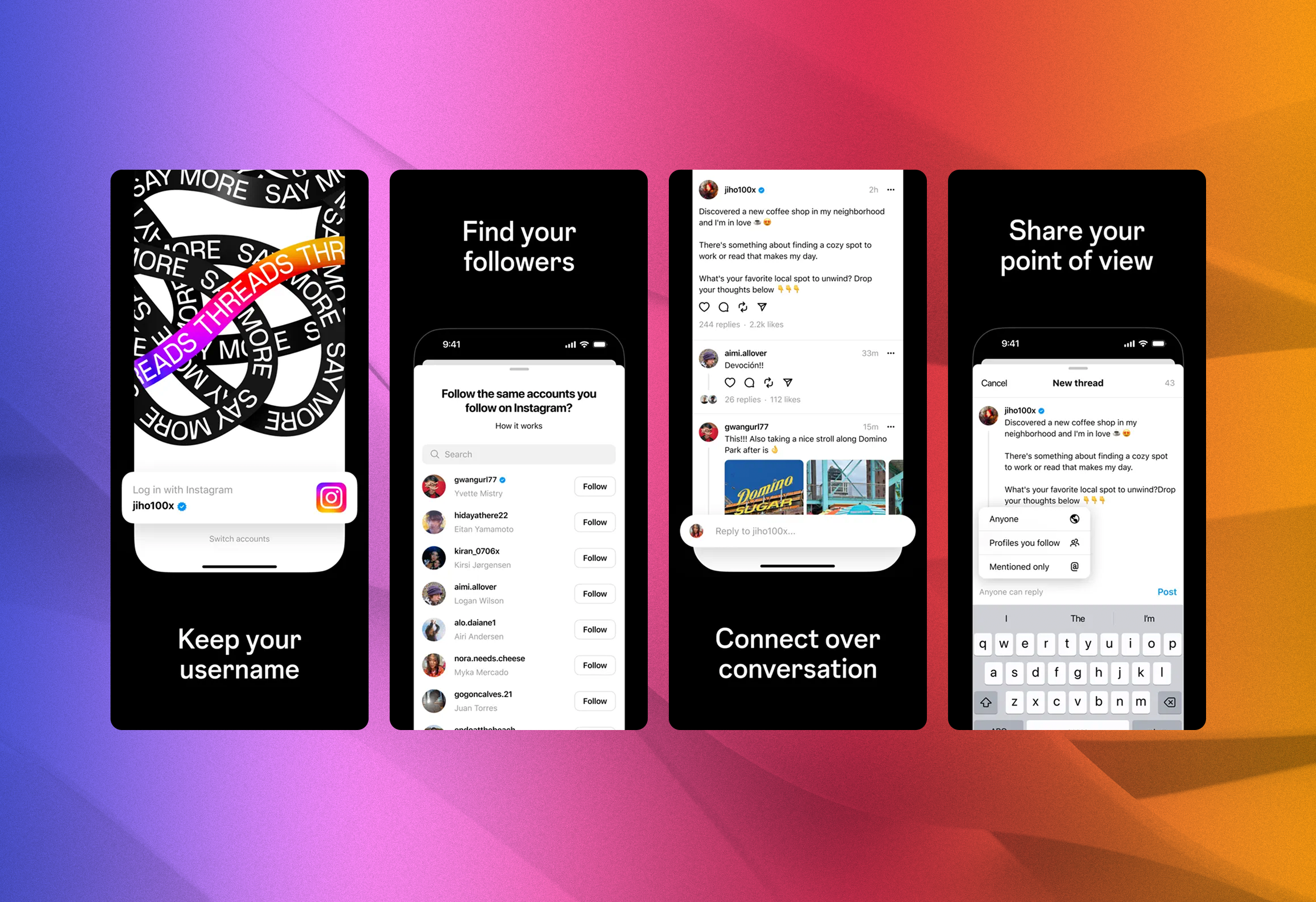 And, just like that, there's another social media platform in town. This week Meta introduced Threads, a text-based conversation app and a deadringer for Twitter in many ways. The platform flew past 2 million sign ups in the first two hours following its launch, and quickly topped 30 million that morning. Impressive!
So, what's all the buzz about? Threads allows you to post threads (go figure), reply to others, and follow profiles you're interested in. Threads and replies can include short pieces of text, links, photos, videos or any combination of them. Unlike Twitter's focus on concise commentary, Threads posts can be 500 characters long and included videos can be up to 5 minutes in length, giving users more leeway when sharing longer content. Currently, Threads is available to anyone that has an Instagram account, making it very easy to sign up and start conversing.
The Threads feed uses an AI-discovery approach meaning you'll see posts from accounts you don't follow but might be interested in, similar to how Reels and TikTok work. (This represents a HUGE opportunity for brands to be part of relevant conversations.) Users can adjust their settings to determine who sees their posts. People that follow a profile can see that user's threads and replies in their feed, allowing them to reply, like, share, quote, or repost.
Since launching yesterday, Threads has already been under fire from Twitter, with Twitter accusing Meta of hiring former Twitter employees to build the app and stealing trade secrets. With rumors of Twitter threatening to sue Meta already swirling, it's going to be an interesting saga to watch as Threads gains adopters, ie: former Twitter users.
For brands, Threads is an exciting development as Meta is more proficient at monetizing eyeballs, giving brands unlimited opportunities to increase conversions. Additionally, with the connection between Instagram, Facebook, and Threads, Meta has a goldmine of data available that advertisers will be able to leverage since we all know there will be ads on Threads… eventually. For now, advertisers have been lukewarm about Threads given Meta's history of data collection practices and the questions remaining around Thread's adoption and monetization. However, it is only day two.
Overall, it would be remiss to call Threads a Twitter replacement just yet as the platform lacks key features (like ads!) that make it attractive to brands and users alike. What's missing? As of now, Threads lacks direct messages, editing capabilities, a chronological feed (which some consider a misstep), saving/bookmarking capabilities, and trending topics and news.
For now, the best thing for brands to do is to create a Threads profile, start following users, and start threading! You'll maintain your verified status and username when you join from Instagram, ensuring your fans can still find you. With the conversation just starting, it's the perfect time to jump in and be part of the evolution.