Nike Customizes Shoe Campaign For Instagram Users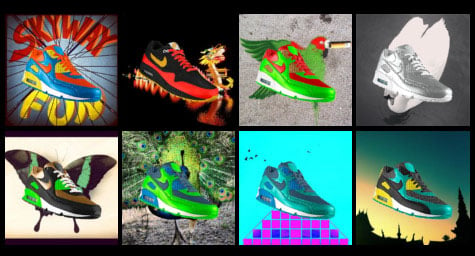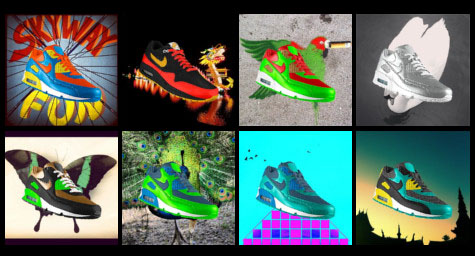 In an effort to leverage the popularity of Instagram, Nike has developed an innovative marketing campaign that offers Instagram users a truly sociable and sharable shopping experience. This new NikeiD campaign allows users to customize Nike gear, and then buy and share their personalized creations. Clickz.com posted the details on how Nike is playing the social media game.
To use this fun feature, Instagram users must first go to the PHOTOiD Web site where they can choose a favorite Instagram image to serve as the background for their finished photo. Then, users can choose their favorite Nike Air Max model and have it instantly customized to match the colors in the image. The shoe can then be purchased or just shared with their Instagram, Twitter and Facebook friends. The finished photo can also be displayed in an online gallery where Instagram users can browse each other's creations.
"Few other brands have ventured to build a campaign that is so well integrated with Instagram," said Thibault Davoult, content and community manager for a French marketing platform focused on Instagram.
Nike is only the latest of numerous brands to capitalize on the power and popularity of Instagram. Major companies like American Express and Burberry have been using the photo-sharing site for a while in various ways, yet Nike's concept is unique because it creates an extraordinarily immersive brand experience.
Another brand standing out for their innovative use of the platform is Mercedes-Benz. The carmaker's recent #Untamed campaign introduced the first digital photo installation where the brand collected and displayed the most creative Instagram photos and then featured them both on a special Web site and at their pop-up shop in Paris.
The campaigns of Nike and Mercedes-Benz are so distinctive because these brands have built their own application on top of Instagram's API. This allows them to customize it to their exact specifications. They truly are evolving Instagram into a more powerful platform for marketers.
Create a marketing experience that leverages the power of social media. Contact MDG.
MDG is a full-service advertising agency and one of Florida's top social media marketing companies. With offices in Boca Raton, FL and New York, NY, MDG specializes in developing integrated 360° marketing strategies that give clients a competitive advantage. Our core capabilities include branding, logo design, digital marketing, print advertising, mobile advertising, email marketing, media planning and buying, TV and radio, video ads, Web design and development, content marketing, social media marketing, and search engine optimization (SEO). To stay on top of the latest trends in social media marketing and advertising, contact MDG.
Read more at Clickz.com.