Nike's New Marketing Mojo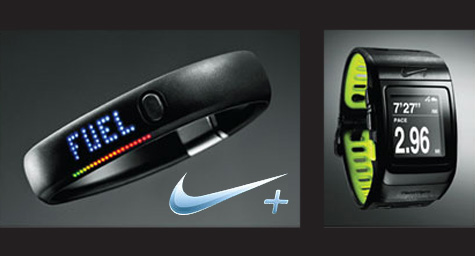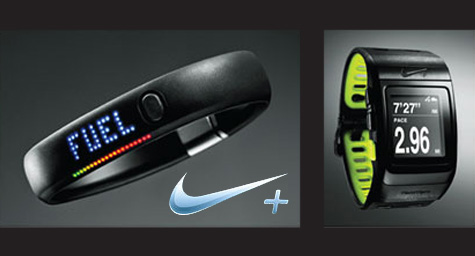 In 2010, Nike launched a new division of the company called Nike Digital Sport. While this segment is dedicated to developing devices that enable users to track their personal sports statistics, its greater purpose is that it allows Nike to follow users and strengthen their bonds with them by establishing an online community. This marks the company's newfound focus on moving the majority of their marketing toward digital initiatives. CNNMoney.com recently reported on how Nike arrived at this digital decision.
While Nike made its name with flashy commercials and full-scale ad campaigns, the company cut its TV and ad spending by 40 percent in recent years. In fact, there is barely any media advertising for Nike right now. The motive for this move is that Nike realized that its customers are more likely to be found on the Internet than in front of the television. Today, the company's core customer is a 17-year-old who spends 20 percent more on shoes than the average adult and has traded television for online communities. A major benefit of the digital realm is that allows for greater consumer interaction than any TV ad ever could.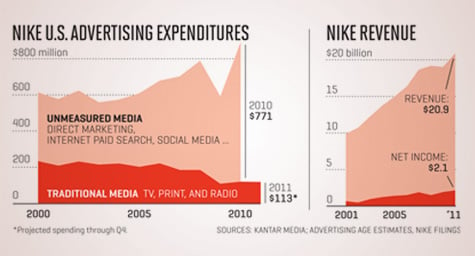 "Connecting used to be, 'Here's some product, and here's some advertising. We hope you like it,'" said Nike CEO Mark Parker. "Connecting today is a dialogue."
This new digital direction has led Nike to hire numerous engineers to develop technology for its online communities, as well as to restructure its multi-million-dollar ad campaigns for the Olympics and World Cup to make online campaigns a priority. The company also spent approximately $800 million on 'nontraditional' advertising in 2010, according to Advertising Age estimates. This was a larger percentage of its U.S. advertising budget than any other top 100 U.S. advertiser.
Another reason for Nike's shift to online was the growing competition. Nike may be the world's largest sports company, but the digital world tends to favor smaller, niche brands whose distinction is rewarded with a cult-like following. The company realized that these quirky brands posed a threat to its market share and had no option other than to develop an online presence and community of its own.
Today, Nike is still creating thrilling ad campaigns, but they're more likely to debut online than on-air. A recent ad featuring Nike soccer stars was launched on Nike Football's Facebook page after the company spent months building a base of one million fans and teasing the commercial's debut. Its airing caused a whirlwind of online activity and ultimately gathered eight million views in a week to set a viral video record.
One of the most surprising repercussions of Nike's digital shift was its decision to break away from its long-time ad agency, Wieden + Kennedy, and start dividing its campaigns among Wieden and various new-media agencies.
Finally, as evidence of Nike's new attitude, the company has significantly reduced its alliances with superstar athletes. While Nike will always have a few stars in its advertising arsenal, its former emphasis on hero worship has been replaced by a focus on consumer-driven conversation, with the goal of winning over consumers and scoring their long-term loyalty.
Connect with MDG at 561-338-7797 and implement a social media marketing strategy today.

MDG, a full-service Florida advertising agency with offices in Boca Raton and New York, NY, specializes in developing targeted Internet marketing solutions, exceptional creative executions and solid branding and media buying strategies that give clients a competitive advantage. 
Our core capabilities include print advertising, branding, logo design, creative, digital marketing, media planning and buying, TV and radio advertising, customer relationship management, inbound marketing programs, public relations, Web design and development, email marketing, social media marketing, infographic design, and SEO. View MDG's creative marketing portfolio.