Non-Profit Marketing: Getting Art Down to a Science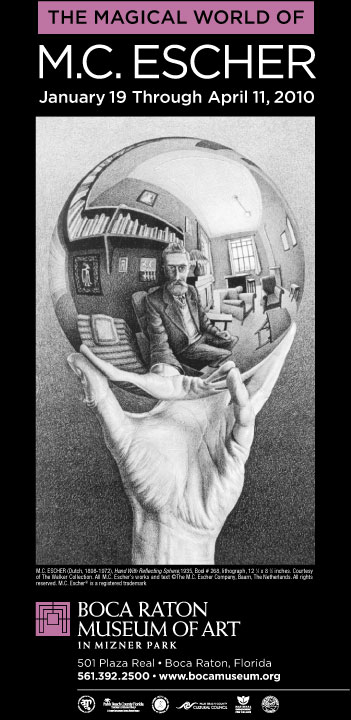 To check out the Escher  flash press release, Click here.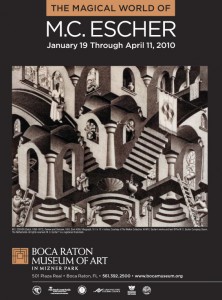 We're Making Magic For Escher At The Boca Raton Museum of Art
As The Boca Raton Museum of Art prepares to spotlight the conceptual puzzles of M.C. Escher with its new exhibition The Magical World of M.C. Escher from January 20 through April 11, 2010, many are hoping to gain a greater understanding of this artistic visionary known for infusing the mathematic into the aesthetic.
As a graphic artist who specialized in transforming mathematical dimensions into artistic designs, Escher gained worldwide acclaim to become one of the most celebrated artists of the 20th century. This special exhibition promises to please with hundreds of works of art, including Escher's most rare and important works, making this the most comprehensive display of Escher's range ever shown in the nation.
Given MDG's shared appreciation for the graphic arts, our agency was thrilled to promote this new exhibit for the Museum. We designed the following materials to show Escher in his best light and placed them in various media to gain maximum exposure:
A New York Times insert highlighting the Escher exhibition, as well as the benefits of Museum membership
Print ads featuring Escher's famed sketches along with exhibition information
A digital flash press release showing a compelling array of Escher's works to intriguing music

With this broad scope of advertising media and methodology, we think this adds up to an effective campaign that will continue drawing crowds.
For more information, call 561-392-2500 or visit www.bocamuseum.org
Michael Del Gigante is president and executive creative director of MDG in Boca Raton, Florida. MDG is a full-service advertising agency that specializes in developing targeted marketing solutions, exceptional creative executions and solid branding strategies that give clients a real competitive advantage. For more information, Contact MDG.