Now Showing At The Boca Raton Museum: California Impressionism: Paintings from The Irvine Museum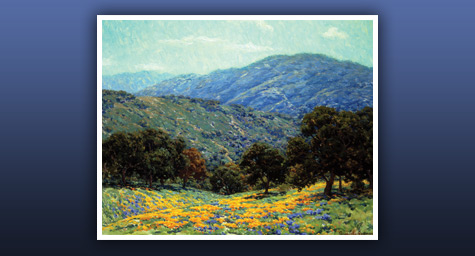 From the late 1880s through the early twentieth century, California's majestic landscape, vibrant colors and intense sunshine inspired a unique style called California Impressionism or California plein air painting after the French term for "in the open air." From January 19 through April 17, 2011, the natural beauty of California shines through in masterpieces of California Impressionism from the Irvine Museum, the only museum in California dedicated to the preservation and display of California Impressionism or plein air painting.
Discover the tranquility and beauty of California with more than 60 paintings featuring the work of more than forty-four well-known artists, such as Guy Rose, William Wendt, Dona Schuster, Granville Redmond and Alson Clark.
Stylistically, California plein air is a composite of traditional American landscape painting and influences from French Impressionism and Post-Impressionism. At the turn of the century, an abundance of young artists trained in this style came to Southern California, causing California Impressionism to blossom from 1900 to 1915. Today, these paintings capture the Golden State's natural glory and truly inspire California dreaming.
California Impressionism: Paintings from The Irvine Museum will be on display from January 19 through April 17, 2011 at the Boca Raton Museum of Art in Mizner Park. For more information, visit www.bocamuseum.org
Check out current exhibitions.
MDG handles all creative advertising, collateral design, transit advertising and media buying for this enriching, non-profit cultural institution in Boca Raton, Florida
Michael Del Gigante is president and executive creative director of MDG. MDG, a full-service Florida advertising agency, with offices in Boca Raton and New York, NY, specializes in developing targeted, Internet marketing solutions, exceptional creative executions and solid branding and media planning strategies that give clients a competitive advantage. To view all MDG corporate identity projects, collateral design, signage, TV and Web design, click here.