Billboards Breathe New Life into Michigan Hospitals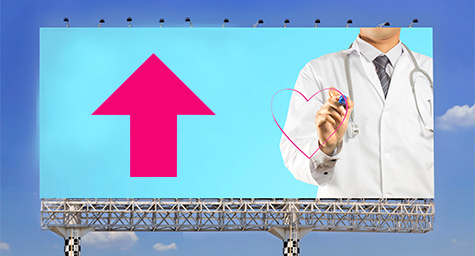 As marketers race to keep their fingers on the pulse of digital marketing and social media, it's important to remember that traditional tactics can still deliver healthy results. This is the case for a number of Michigan hospitals that are thriving by targeting patients through the conventional method of outdoor advertising. These billboards are bringing in crowds of new patients and proving that old-time panels can rival real-time channels. FierceHealthcare.com reported on how billboards are still good for business.
Consumers have more healthcare options than ever today, from urgent care centers to pharmacy clinics. As a result, hospitals are vying for revenue and consumer preference. Billboards are proving to be the remedy for these hospitals by increasing their streams of both income and incoming patients.
While outdoor advertising was a common component of media mixes for many decades, the digital age has shifted marketers' focus from off-road to online. But the beauty of billboards lies in their power to immediately capture attention of passersby at the local level. The success of these billboard campaigns should serve as a reminder to advertisers that traditional marketing methods still work.
At Hurley Medical Center in Flint, Michigan, their billboard campaign has brought in 40% of the 150 patients that came to their new hernia center. The billboards continue to bring in almost 15 calls per day and have led to a 140% increase in patient volume.
Michigan's McLaren Flint hospital also saw a healthy boost in business by using billboards, but the hospital took a more holistic approach by making them part of an integrated campaign that also included electronic and print advertising and online media. This media mix resulted in 38% growth in patient volume last year, and the hospital is currently 34 percent ahead of 2014 patient volume.
While these successes show that billboards can stand up against other media, marketing experts agree that social media and digital advertising remain vital in healthcare marketing today. Research shows that social media has a major influence on purchase decisions and social media recommendations are trusted by the majority of consumers.
This is especially important for the healthcare industry because consumers are taking control of their medical decisions and one of the first places they seek guidance is on social media channels. Positive reviews from patients and a responsive social presence from healthcare providers can determine the places, people, and products that consumers choose for care.
It's important for healthcare marketers to remember that targeting specific audiences requires thinking about the most effective ways to get the information in front of them. This can be via digital, traditional, or a mix of media. But they need to be open to all types of tactics in order to have a successful operation.
Leverage the strategies of outdoor advertising in your healthcare marketing. Contact MDG.
MDG, a full-service advertising agency with offices in Boca Raton and New York City, is one of Florida's top healthcare marketing companies and branding firms, whose healthcare clients include Dental Care Alliance, MDVIP, Max Planck Florida Institute, HCA East Florida, Primary Pharmaceuticals, the biostation, and MD Now. MDG's core capabilities include branding, logo design, print advertising, digital marketing, mobile marketing, email marketing, media planning and buying, radio and TV advertising, outdoor advertising, newspaper, video marketing, infographic development, Web design and development, content marketing, social media marketing, and SEO. To learn more about the latest trends in healthcare marketing, contact MDG.