Omaha Snaps Up a Real-Time Marketing Play During Playoff Game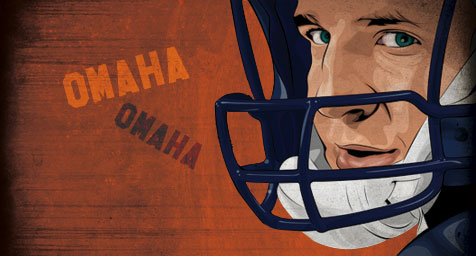 The city of Omaha was on the ball last Sunday when they leveraged a routine football call into a winning real-time marketing opportunity. As football fans were caught up in the San Diego vs. Denver NFL playoff game, they kept catching Broncos quarterback Peyton Manning yell "Omaha! Omaha!" right before the ball was repeatedly snapped to him on the field. Fans took to Twitter with so many jokes and jabs about the shout that it quickly became a national trending topic on Twitter. All of the buzz about his bark led to a witty, well-timed tweet from the Omaha Convention & Visitors Bureau. This random tweet scored thousands of retweets and favorites to show that it pays to get in the game of real-time marketing. Adweek.com posted the play-by-play.
The Omaha Convention & Visitors Bureau (OCVB) isn't the first brand to intercept a football incident and run it into a real-time marketing moment. Oreo's playful tweet during last year's Super Bowl blackout received more than 10,000 retweets almost instantly and became an iconic instance of Twitter marketing. Oreo used a sudden loss of power to prove the stunning power of real-time marketing.
In comparison, the OVCB scored more than 4,300 retweets and nearly 1,700 favorites on Twitter. This was a very impressive Twitter turnout that should secure their place in the social marketing hall of fame.
Meanwhile, direct marketer Omaha Steaks was a little late to the game the next morning with this tweet, but still managed to have a bit of fun.
This Sunday, the Broncos and Manning are heading back to the field to play the New England Patriots, whose quarterback Tom Brady has also been known to shout "Omaha" during games. This playoff game is expected to get huge TV ratings and Twitter activity, so you can expect the OVCB to be glued to both the big screen and the digital screen so they're ready to tackle every real-time marketing opportunity. The tourism bureau is also considering placing paid advertising during the game to take full advantage of Manning's mention.
"We are considering all avenues at this time," said Jasmyn LeFlore, OCVB social media manager. "But we'll likely focus our efforts on listening and engaging on Twitter."
Capture every advertising opportunity through social media marketing. Contact MDG today at 561-338-7797 or visit www.mdgsolutions.com.
MDG, a full-service advertising agency with offices in Boca Raton and New York, NY, is one of Florida's top branding firms. Our core capabilities include print advertising, branding, logo design, creative, digital marketing, creative media planning and buying, radio and TV advertising, Web design and development, email marketing, social media marketing, and SEO. To stay on top of the latest trends in real-time marketing and advertising, contact MDG today at 561-338-7797.