Mac Users Steered to Pricier Hotels by Controversial Orbitz Experiment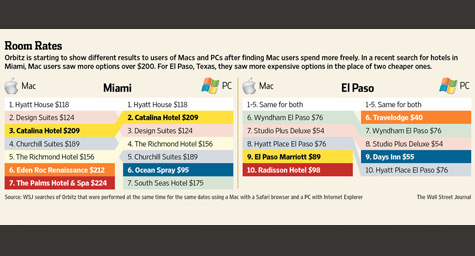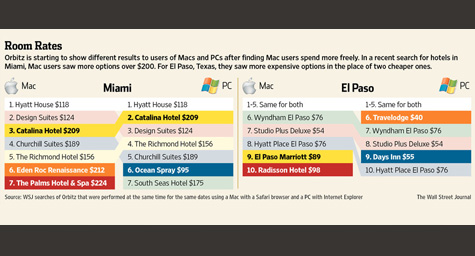 In a controversial move, online travel agency Orbitz has started driving Mac computer users toward more expensive hotels. This bold strategy is based on the website's tracking research, which indicated that its Mac customers spend up to 30 percent more on travel than its Windows clientele. As a result, the travel site is showing them different and costlier hotel options. The Wall Street Journal reported on this disturbing digital discovery.
Orbitz confirmed that the company is experimenting with highlighting different hotel offers to Mac and PC users. In their defense, executives said that the company isn't displaying different prices for the same room and that users can easily choose to rank hotel results by price.
According to chief scientist, Wai Gen Yee, Mac users are 40% more likely to book a four- or five-star hotel than PC users, and when Mac and PC users book the same hotel, Mac users tend to stay in more expensive rooms.
Orbitz sees nothing wrong with tracking customer spending patterns, then using that data to predict their preferences and future purchasing behavior. In fact, data mining has been a priority for chief executive Barney Harford since he joined the company in 2009. During his tenure, he has recruited statisticians with computer backgrounds for a dedicated analytics team and set them up in a separate office. It was their research that led to the discovery of the spending distinctions. The fact that many Mac users favor pricier hotels is simply used as a filter that directs them toward similar properties within that price point, yet many other factors such as the user's location and hotel popularity contribute to the final rankings. Competitors such as Priceline.com and Expedia said they do not factor the user's computer into hotel recommendations.
Customer tracking and targeting have become increasingly popular in the online retail industry. Advanced tracking software has made it simple to leverage personal browsing data to increase sales. In addition, predictive analytics allow companies to customize offers based on prior purchasing habits and the perceived long-term value of the customer.
The Wall Street Journal investigated the situation by conducting a variety of hotel searches on both Mac and PC computers. The pricing disparity was not as obvious as expected, with some searches displaying the same results to both users and others showing Mac customers more expensive hotels on the first page. Generally, hotel accommodations were approximately 11 percent costlier on the first page for Mac users than for PC customers.
It's no secret that Apple users are big spenders and have average household incomes of $98,560 compared to the $74,452 of PC users. Research has shown that shoppers using Apple devices like iPhones outspend customers on Android or BlackBerry devices, as well as that online orders made on tablets such as iPads are larger than those from desktops or laptops.
From Orbitz's perspective, the company is merely mining its customer data and catering to its users based on their preferences and previous purchasing behavior. It's just a matter of demographics taken in a new digital direction.
To learn about the latest trends in hotel marketing, contact MDG today at 561-338-7797 or visit www.www.mdgsolutions.com.
MDG, a full-service Florida advertising firm with offices in Boca Raton and New York, NY, specializes in developing targeted Internet marketing solutions, exceptional creative executions and solid branding and media buying strategies that give hospitality clients a competitive advantage. Our core capabilities include branding, logo design, creative, digital marketing, print advertising, media planning and buying, TV and radio, Web design and development, email marketing, social media marketing and SEO.