On Print's Turf, Google Wins 2012 USA Today Print Advertising Competition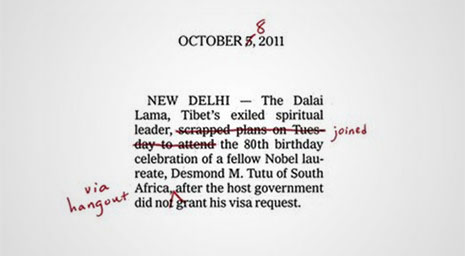 In an ironic twist, the winner of the 2012 USA Today Print Advertising Competition and recipient of $1 million in full-page newspaper advertising space was the Google Creative Lab unit of Google. The irony of the triumph is that the Google Creative Lab is renowned for digital creative development, which is viewed as the direct contemporary rival of the traditional print advertising genre. The contest was launched to promote creativity in print advertising and corresponded with the publication's redesign and 30th anniversary. The New York Times reported on reactions to the win.
The contest was open to both new and existing creative print ads and received 100 entries that were judged by six advertising and media professionals. The contest was narrowed down to three finalists, with the Google Creative Lab's winning ad promoting the Google Plus Hangout service as a virtual substitute for physical meetings. The print ad previously ran in The New York Times and received such a positive response that the group opted to enter it in the competition. The prize of $1 million in advertising space totals approximately six full newspaper pages, which the company plans to donate to others that need it.
Some people praised Google's win for their inspired use of a print ad to promote a digital service. Others wonder whether the ad was a subtle allusion to the uncertainty of print advertising's future in an increasingly digital marketing culture.
Despite its origin or meaning, the ad was deemed a winner because its creators displayed an understanding of the advantages of print advertising and used the format to its fullest marketing potential.
In fact, the contest was created to call attention to the current lack of highly creative print advertising since the focus has shifted to digital.
"I was upset that agencies weren't doing enough print creative and putting their best and brightest people on digital platforms," said Larry Kramer, president and publisher at USA Today. "I'm worried the skill set is atrophying and wanted to do something to remind the world that print creative matters."
To discover creative ways to integrate print advertising with digital marketing, contact MDG today at 561-338-7797 or visit www.mdgsolutions.com.
MDG, a full-service, award-winning advertising agency with offices in Boca Raton and New York, NY, is one of Florida's top integrated marketing agencies. Our 360° approach uses just the right mix of traditional and digital marketing to reach your advertising goals. MDG specializes in developing integrated marketing solutions, exceptional creative executions, and solid branding and media-buying strategies that give clients a competitive advantage. Our core capabilities include award-winning print advertising, branding, logo design, creative, digital marketing, media planning and buying, radio and TV advertising, Web design and development, email marketing, social media marketing, and SEO. View MDG's creative advertising portfolio.
Read more at NYTimes.com.