Online Video and Social Media: A Marriage Made in Digital Marketing Heaven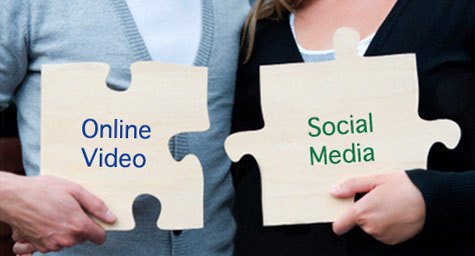 Online video content and social media commentary are a perfect pair for today's businesses, according to a recent report from Brafton, an online news and content marketing agency. This dynamic duo is so powerful because it practically ensures that a brand's content will be shared and continually circulated on the Internet. As a result, content marketers are advised to integrate a significant amount of video into the content they develop and distribute to their end users. MediaPost.com recently posted the highlights of the Brafton report, including the following three reasons why businesses should incorporate more and more online video into their digital marketing efforts.
1. Video is Viewed – Simply put, people love to watch online videos. The Brafton report revealed that 1,182 minutes of videos were viewed by the average person in the month of November.
2. Video is Shared – Just as people enjoy watching videos, they often get even more enjoyment from sharing them with their friends. According to the Brafton report, based on research from AddThis, sharing last month increased by a whopping 55 percent on Twitter and 18 percent on Facebook.
3. Video is the Way to Stand Out – Integrating online videos into a brand's social media sites is an easy and effective way for a brand to distinguish itself and rise above its competition. The sheer volume of businesses on Facebook can make it difficult for a brand to get noticed, yet video captures the attention of users and garners attention for the brand that created the video. In addition, the fact that more and more people are spending more of their time on social media makes these socially placed online videos an opportunity that's too worthwhile to miss.
It's clear that online videos can intensify the reach, response, and results of branded content. Now, content marketers need to leverage this digital marketing strategy to give their brands the video advantage in the increasingly competitive online arena.
To integrate online video and social media into your digital marketing strategy, contact MDG.
MDG, a full-service advertising agency with offices in Boca Raton and New York, NY, is one of Florida's top integrated marketing agencies. Our 360° approach uses just the right mix of traditional and digital marketing to reach your advertising goals. While some industries may fare better in print and others online, we strive to create a balanced approach, where traditional and digital marketing efforts support each other and your message is tailored to the medium. To learn more about the latest trends in marketing and advertising, contact MDG.
Read more at MediaPost.com.