Online Video Develops Into A Digital Mainstay In 2010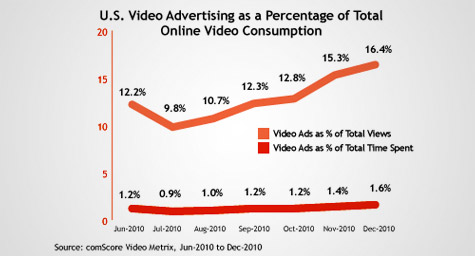 Online video has taken hold as a digital cornerstone, according to the comScore 2010 U.S. Digital Year in Review. MediaPost reports that the annual survey indicates the average number of people who watched video online each day soared 32% to 88.6 million between December 2009 and December 2010. The amount of viewing sessions increased 13%, the number of hours spent was up 12% and the amount of streams jumped 8%.
A main driver of these results is time-shifted TV viewing online, according to comScore. During the last quarter of 2010, Hulu accounted for 323 million hours of video viewing while the combined video viewing on the major network sites drew 162 million hours. While these figures are impressive, the most interesting finding was the rate of growth among the individual networks. In fact, direct video viewing from the TV brands' own sites has increased at a much higher rate than Hulu, indicating that the networks are successfully attracting viewers over to their own online hubs.
Still, this doesn't mean that Hulu has been completely eclipsed by the networks. The spike in Hulu's early growth was likely due to early-adopters discovering the appeal of online video viewing. As online video grows, it is being embraced by a large number of viewers who are more comfortable with the familiar networks than a new-fangled online system. Regardless of where viewers watch, online video viewing has clearly and taken hold of audiences in every market.
Following suit, the monetization of online video is rapidly on the rise. comScore has been strongly asserting that online video has a remarkable low ad load compared to TV. Ads comprise only 1.6% of all time spent with video, yet when it comes to the numbers of total streams viewed, 16.4% of videos are currently ad content. This increase in the share of videos comprised of advertising increased significantly in the last six months, up from 9.8% in June.
2010 was the year that the average consumer finally became comfortable with online video viewing, with many treating online video hubs as their personal DVRs. Now, advertisers and publishers are following similar business models and hoping to achieve the same success.
MDG, a full-service Florida advertising agency, with offices in Boca Raton and New York, NY, specializes in developing targeted Internet marketing solutions, exceptional creative executions and solid branding and media buying strategies that give clients a competitive advantage.
Our core capabilities include print advertising, branding, logo design , creative, digital marketing, media planning and buying, TV and radio, public relations, Web design and development, email marketing, social media marketing and SEO. To view MDG's portfolio, click here.