Mondelēz Unleashes 500 A Capella Singers to Promote Oreos in New York City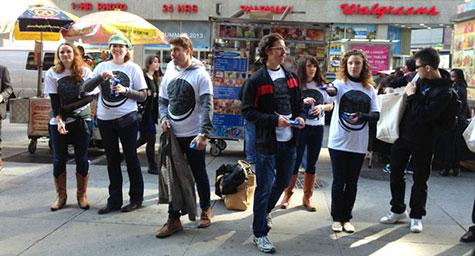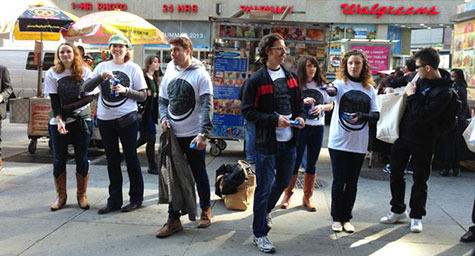 In the fast-paced hustle and bustle of the city that never sleeps, it's difficult to get a cab, let alone the attention of an entire street of New Yorkers. Mondelēz's Oreo brand used a unique approach to get attention from New York City natives this week. Bloomberg Businessweek reported on the elaborate stunt from Oreo.
On May 14, 500 a cappella singers from across the U.S. joined Canadian singer Adam Young of Owl City in the streets of New York City in celebration of Oreo cookies. The unusual guerrilla marketing approach is a part of Oreo's multimillion-dollar "Wonderfilled" campaign. The advertising campaign, which launched on television last Sunday during Mad Men, includes a jingle by the Owl City front man. In addition to TV ads, the promotions will be broadcast on radio, online, and in events in Los Angeles, Chicago, and other cities.
Oreo is no stranger to offbeat promotional advertising. During this year's Super Bowl blackout, 360i, one of the ad agencies responsible for Oreo's new advertising campaign, immediately responded with the "Dunk in the dark" tweet. The intelligent tweet outshone most of the television spots that aired during the game. Oreo also engaged in a harmless Twitter rant with AMC Theatres after asking followers if they ever sneak Oreos into the movies.
The recent Oreo spectacle—complete with free snacks, tunes, and a sing-along in Union Square—may have been a little too sweet for New Yorkers. Reactions on Twitter ensued:

According to Samuel Craig, professor of marketing at New York University's Stern School of Business, "Union Square is a place where people naturally congregate, so you'll reach them. The added benefit is the news coverage. The challenge for Oreo is it's a 100-year-old brand. How do you keep it fresh, relevant, exciting? This is one way to break through the clutter."
Oreo's a capella showcase may have seemed strange to some New Yorkers, but it was commendable from a creative standpoint. Even at the ripe old age of 100, Oreo continues to push boundaries with lighthearted, original, creative advertising executions. The cookie brand has been around for a century, so they must be doing something right.
Let the power of creative advertising move your brand forward. Contact MDG today at 561-338-7797 or visit www.mdgsolutions.com.
MDG, a full-service advertising agency with offices in Boca Raton and New York City, is one of Florida's top creative ad agencies. Our 360° approach uses just the right mix of traditional and digital advertising to reach your marketing goals. While some industries may fare better in print or TV ads, and others online, we strive to create a balanced approach, where traditional and digital marketing efforts support each other and your message is tailored to the medium. To learn more about the latest trends in marketing and advertising, contact MDG today at 561-338-7797 or visit www.mdgsolutions.com.
Read more at Businessweek.