Oscars Predicted to Draw a Crowd-Pleasing $100 Million in Ad Revenues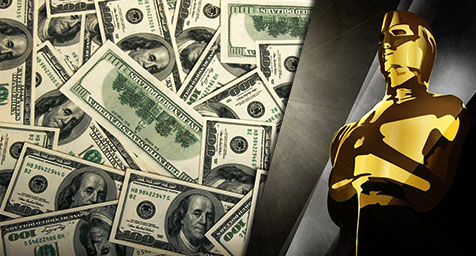 Lights, camera, ad revenue! While the world is watching and waiting to see who earns the trophies at the upcoming Academy Awards, sponsors of the show are set to earn around $100 million in ad revenue. This total is on track to top the $88.3 million that advertisers earned in last year's blockbuster broadcast. MediaPost.com went behind the scenes to show how the star-studded spectacle should reel in the revenue.
This year, sponsors are spending $1.8 million for a thirty-second TV spot during the telecast. The price is 10% higher than the $1.61 million asked per ad two years ago. The rate rise is attributed to the impressive 7% growth in ad revenue seen in last year's telecast. This is only the second time in the past 10 years that the Oscars has experienced such significant growth.
"The robust pricing reflects advertiser demand for live TV events that can generate strong engagement in social media," according to Kantar Media.
The Academy Awards has long been the second-highest-grossing single TV program of the year, taking second billing to the Super Bowl with its dazzling $250 million in ad revenue. Meanwhile, the Grammy Awards has started stealing the scene. This year's Grammy Awards experienced a rate rise of 16% to draw more than $1 million per spot.
But Oscars viewers needn't worry about this year's show being crowded with TV commercials. In fact, Kantar reports that total advertising time should be a little less than 11 minutes per hour. Compare that to regular network TV prime time, which can total 15 minutes or more of non-program airtime.
Over the last five years, the three biggest names in advertising during the Academy Awards have been Hyundai with a total of $56.6 million in ads, followed by JCPenney with $49.4 million in spots, and Coca-Cola with $41.5 million in airtime.
With industry insiders predicting a total take-home of $100 million in ad revenue, it appears that this year's Oscars event has more commercial appeal than ever.
Get the latest look at advertising and branding. Contact MDG today at 561-338-7797 or visit www.mdgsolutions.com.
MDG, a full-service advertising agency with offices in Boca Raton and New York, NY, is one of Florida's top branding firms. MDG's capabilities include print advertising, direct mail marketing, branding, logo design, creative, digital marketing, media buying and planning, radio and TV advertising, Web design and development, online video advertising, infographic development, email marketing, content marketing, social media marketing, and SEO. To learn about the latest trends in advertising and branding, contact MDG today at 561-338-7797 or visit www.mdgsolutions.com.