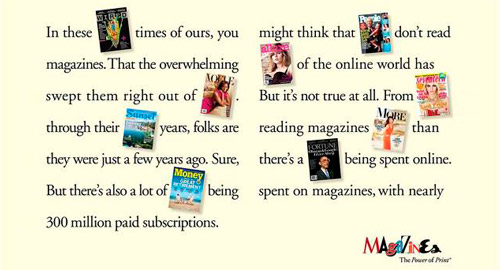 The leaders of five major magazine companies—Charles H. Townsend, Condé Nast; Cathie Black, Hearst Magazines; Jack Griffin, Meredith Corporation; Ann Moore, Time Inc.; and Jann Wenner, Wenner Media— launched of one of the largest print advertising campaigns ever created to promote the vitality of magazines as a medium.
Print Remains a Must in the Media Mix
With the phenomenon of social media and the evolution of online advertising, some believe that marketing today must be digital in order to be successful. But research indicates that print continues to maintain a very important role in the media mix for effective brand building, marketing and communication. In addition to being accessible to every audience and versatile to any format, print is still the medium preferred by a large segment of consumers. With this in mind, major organizations have rediscovered the significance of print in a marketing media mix seeking maximum customer reach and engagement.
While social media provides a powerful means for companies to connect with customers and target prospects, today many are using paper media to leverage that information and complement their online initiatives. The results of this collaborative media approach are astounding:
·      A recent study of the financial services industry showed that consumers who received both print materials and online communications made 70 percent more online visits than those who received only online contact
·      Research indicated that websites supported by catalogs generated 163 percent more revenue than those that were not
·      One of the world's leading e-tailers discovered that its print catalog drives per-transaction sales that double the Web-based average
·      A software developer serving the utility industry sees its printed Home Energy Reports as the central tool for achieving up to 80 percent customer response
Print may be considered traditional, but advanced technology is incorporating paper media into high-tech formats and enabling print to evolve and expand. Many marketers are making good use of QR codes, which are advanced bar codes printed in advertisements that allow readers with app-equipped smart phones to be directed to specific websites, where they can get more information about the advertised product that was originally viewed on the printed page.
As you can see, the next generation of marketing is not just digital, but mutual, with print remaining an essential element for the most effective media mix.
MDG, a full-service Florida advertising agency, with offices in Boca Raton and New York, NY, specializes in developing targeted, Internet marketing solutions, exceptional creative executions and solid branding and media buying strategies that give clients a competitive advantage. To view all MDG corporate identity projects, collateral design, signage, TV and Web design, click here.