Outdoor Ad Reveals a Secret Anti-Abuse Message to Children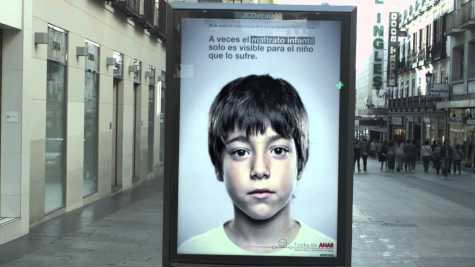 Child abuse is often veiled in secrecy, which makes a new outdoor ad's secretive approach to helping kids in need seem only appropriate. Created by the Spanish organization called the Aid to Children and Adolescents at Risk Foundation (ANAR), the ad is designed to display two different messages, with a general one for adults and an urgent one for children. Gizmodo.com gave a glimpse of the outdoor ad's dual display.
When viewed by an adult or a person over four-foot-five in height, the ad looks to be an image of a sad-looking child with copy that describes child abuse as only being visible to the child experiencing it. The ad brings that message to life, because when viewed by a child, the boy's sad face on the ad is marked in bruises. The child's version also includes the stronger message to call the foundation for help in case of abuse: "If somebody hurts you, phone us and we'll help you," and includes the foundation's phone number.
The ad relies on an optical illusion involving a lenticular top layer that shows varying images at different angles. It's designed to help children suffering from abuse to seek help, especially if their abuser is standing beside them.
While the ad's lenticular technology opens the door to all kinds of exciting advertising possibilities, some have expressed skepticism as to whether it could one day be used by companies to target their products directly to kids. For now, it's being used for a good cause and will hopefully remain a positive outdoor advertising platform.
Discover the latest advertising innovations and learn more about the power of creative outdoor advertising. Contact MDG.
MDG, a full-service advertising agency with offices in Boca Raton and New York, NY, is one of Florida's top creative ad agencies. Our 360° approach uses just the right mix of traditional and digital marketing to reach your advertising goals. MDG specializes in developing integrated marketing strategies, exceptional creative executions, and solid branding and media-buying strategies that give clients a competitive advantage. Our core capabilities include print advertising, branding, logo design, creative, digital marketing, media planning and buying, radio and TV advertising, outdoor advertising, Web design and development, email marketing, social media marketing, and SEO. To stay on top of the latest trends in marketing and advertising, contact MDG.
Read more at Gizmodo.com.