Payphones As Time Machines Recall Past For New York Museum Exhibit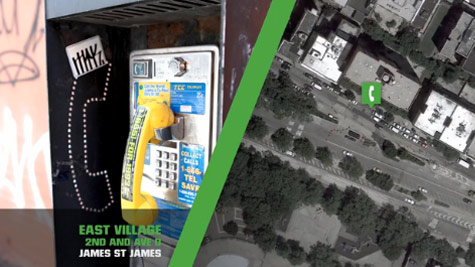 New York City is constantly moving and changing. This results in a dynamic and lively landscape, yet also means that history and memory are continually sacrificed in favor of the shiny and new. While the city still has a few historic areas and protected landmarks, these locales have become increasingly rare as developers thrive on the economic rewards of renovation and residents crave the latest and greatest. In an effort to recapture the unique perspective of the New York of 20 years ago, the New Museum is featuring an exhibit, called, "NYC 1993: Experimental Jet Set, Trash and No Star." An especially fascinating element of the exhibit revolves around the concept of payphones as virtual time machines where people can literally dial to experience what life was like in late-twentieth century New York. TheAtlanticCities.com described this novel and nostalgic payphone feature.
The payphone project consisted of converting all 5,000 New York City payphones into these unique time machines. When users dial 1-855-FOR-1993, they can hear the voice of an actual New York resident from 1993 that would explain their life in the city during that tumultuous time. The voices range from activists and club kids, to journalists and land developers, yet all take callers back to a more unstable and uninhibited time.
It's important to realize what a striking difference two decades can make. The New York City of 1993 was extremely different from the glossy and glamorous facade of the city today. This earlier New York was not obsessed with the wealth and trappings of success, yet marked by rampant crime and the AIDS crisis. The city was on the verge of great change as the wild ways of the '70s, '80s and early '90s were quickly giving way to a newer and nicer New York. It was the final days of low rents and high crime as more money began streaming in and laws started tightening up. Overall, the end of 1993 ushered in a new beginning as the city became safer, cleaner and wealthier. Gone were the days of danger and dirt, replaced by a brighter and better way of life.
This fascinating exhibit with its innovative payphones sheds light on New York City's darker days. It also evokes a bittersweet nostalgia and strong sense of pride for a city forever in flux.
To discover the latest trends in museum marketing, contact MDG today at 561-338-7797 or visit www.mdgsolutions.com.
MDG, a full-service Florida advertising agency, with offices in Boca Raton and New York, NY, specializes in developing targeted Internet marketing solutions, exceptional creative executions and solid branding and media buying strategies that give clients a competitive advantage. Our core capabilities include branding, logo design, creative, digital marketing, print advertising, media planning and buying, TV and radio, public relations, Web design and development, email marketing, social media marketing and SEO.
Read more at TheAtlanticCities.com.