Adobe Celebrates Photoshop's 25th Birthday with Oscar-Worthy TV Spot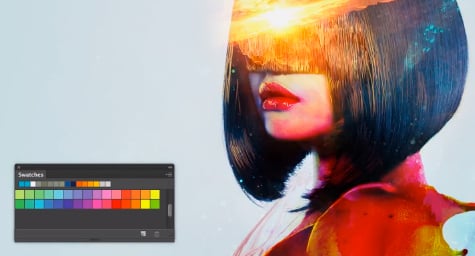 Although the Super Bowl gets most of the credit for introducing great TV commercials, the Academy Awards is no slouch, either, when it comes to showcasing great advertising. A new spot commemorating Adobe Photoshop's 25th birthday is a perfect example. The colorfully animated 60-second tribute to dreamers is scheduled to air in select markets during Sunday's Academy Award's ceremony, reports Adweek.
The spot, created by Goodby, Silverstein & Partners, shows the photo-editing software in use in a number of different creative situations, all set to the iconic Aerosmith song, "Dream On." Notably, the commercial ignores Photoshop's more controversial airbrushed supermodels and focuses instead on its use in design, illustration, and film—all uses more closely associated with the Academy Awards.
Describing Photoshop's 25th birthday as a huge milestone, Alex Amado, Adobe's senior director of creative and media, describes the spot as both a tribute and a challenge to Photoshop users.
"It's a tribute to the amazing creatives who have used this product and helped us evolve it and conceive of even greater uses," he said. "And we want to challenge the next generation of designers and artists and photographers and moviemakers to dream even bigger, and we'll help them get there."
To justify the creation of the lavish spot for a single Adobe product, Amado explains, "It's the tool we put out into the world that's had the broadest impact. It's used in the design process of pretty much everything we see and touch these days." Amado goes on to say that Photoshop has touched nearly every ad from logos on T-shirts to billboards, industrial design, and the movies.
The art in the spot was sourced from the Adobe-owned creative community, Behance. Each image was carefully selected for its artistry and, in some cases, to match up with the song lyrics. But the purpose of the spot isn't simply to portray the colorful images. It's meant to demonstrate the possibilities as each image undergoes various forms of manipulation via Photoshop.
"We wanted to give it more motion and action. And this way, it represents the kinds of things that happen to images as designers work with them."
Rich Silverstein, co-founder and chairman of GS&P, was heavily involved in the creation of the spot. Describing Photoshop as "an unsung hero," he explains why it was so important to give it a birthday party.
"It's hard to find something in the last 25 years that hasn't been touched by Photoshop. We wanted to show that once you open a Photoshop file, anything can happen. It was time to sing its praises."
Tune in to the latest trends in creative advertising. Contact MDG today at 561-338-7797 or visit www.mdgsolutions.com.
MDG is a full-service advertising agency and one of Florida's top branding firms. With offices in Boca Raton and New York City, MDG's core capabilities include branding, logo design, print advertising, digital marketing, mobile advertising, email marketing, media planning and buying, radio and TV advertising, outdoor advertising, newspaper, online video marketing, website design and development, content marketing, social media marketing, and SEO. To discover the latest trends in advertising and branding, contact MDG today at 561-338-7797.