Pinterest is Pinning its Hope on Personalized Home Pages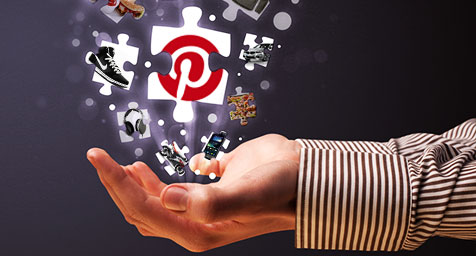 Pinterest is all about expressing personal interests, so now the photo-sharing site is following that focus with a feature that personalizes its home pages based on the user's personal interests. The feature is called "Personalized for You" and it's essentially a different picture of Pinterest organized by the user's interests. TechCrunch.com posted a closer look at whether pinners are jumping on board for these personalized pages.
Pinterest is only testing this feature right now, so it's not available to all users yet, but early feedback has been extremely positive. The Pinterest users offered an early peek at this new feature have expressed their excitement over having a home page that highlights photos and products based on their preferences and personal interests.
And it makes perfect sense, since Pinterest users are already seeking and sharing images that pique their personal interests when using Pinterest, so having the option to organize their home page according to what appeals to them fits perfectly into the picture.
Pinterest began testing the option last month by offering some select Pinterest users the opportunity to try this new feature when they went to log in. Participants saw the personalized feature added to their top navigation as the first option in the category list.
This "Personalized for You" category is a collection of topics and terms based on the user's prior pinning patterns. In addition to changing the content of the page, Pinterest also redesigned the display in a style similar to Flipboard. The pins are no longer the same size and shape, but now tiled with different dimensions based on the topics pinned most frequently.
Pinterest has been focusing on personalizing the pinning process since introducing an opt-out option to activity tracking last year. In addition to letting pinners protect their privacy, the move was also meant to protect Pinterest from future complaints about its personalization plans.
Then when Pinterest rolled out Promoted Pins, they were progressing their personalization plans by subtly and seamlessly bringing native ads that reflected the pinner's personal interests into the Pinterest experience. A number of major companies and their branding firms are currently testing Promoted Pins, so a more personalized version of Pinterest would allow these sponsors to showcase their ads in a perfectly proper setting. This would benefit both users and advertisers, since pinners focused on particular topics would be subtly served ads that reflected their interests, which would be reflected in the rate of response.
For now, Pinterest is waiting on pins and needles to see if pinners embrace its personalized home pages and if this new feature will define its future.
Discover the big picture in social media. Contact MDG today at 561-338-7797 or visit www.mdgsolutions.com.
MDG is a full-service advertising agency and one of Florida's top branding firms. With offices in Boca Raton and New York City, MDG's core capabilities include branding, logo design, print advertising, digital marketing, mobile marketing, email marketing, media planning and buying, TV and radio, outdoor advertising, newspaper, video marketing, Web design and development, infographic development, content marketing, mobile marketing, social media marketing, and SEO. For more on the latest trends in branding and advertising, contact MDG today at 561-338-7797.