Pinterest Tests Interest in Promoted Pins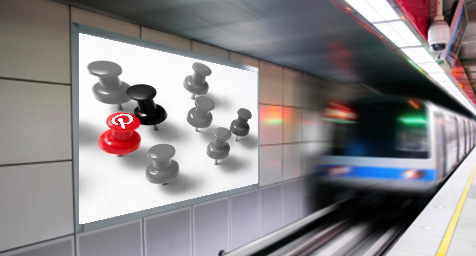 In the latest in a series of recent service enhancements, Pinterest is testing advertising in the form of "Promoted Pins." In the initial test phase, advertisers receive free Promoted Pins that are displayed to limited viewers on both the website and mobile applications. According to Tech Crunch, these are "paid placements from select retailers and businesses that would appear within Pinterest's search results and category feeds."
While this is a major move for the social media network, it's not unexpected. Pinterest has been making various enhancements to its service over a period of several months. The addition of Promoted Pins follows other recent additions such as richer pins, personalized pins, pricing details, recommendations, and localized versions of its service.
An article in Search Engine Watch had hinted at the company's interest in generating revenue through paid advertising. The article repeated a quote from Pinterest CEO Ben Silbermann that first appeared in MIT Technology Review: "I had a kid recently, so I planned the kid's nursery with my wife on Pinterest…A lot of those things end up being the blueprint of what I end up buying and doing. I think that's at the heart of how we'll eventually make money."
The move to Promoted Pins is an effort to get potential customers to go further than just pinning an item of interest. Retailers and merchants are hoping the social media network's new features will result in a greater number of click-throughs and purchases.
Pinterest promises the soon-to-be-paid-for ads will be unobtrusive, but clearly labeled as promotional. The company says the Promoted Pins will be tasteful (no pop-ups or flashy banner ads) and include only items the audience might actually be interested in. For example, if someone creates a board for a particular sport, they will receive Promoted Pins for items related to that sport.
Pinterest says it plans to make refinements based on both advertiser and user comments. For now, though, the ads will be seen by only a limited audience. Unless you're part of a select group of advertisers who receive free Promoted Pins during the testing phase, or part of the small group of Pinterest users being tested, you'll have to wait until the new program is implemented on a larger scale before passing judgment.
For strategies on how to effectively use social media to promote your brand, contact MDG today at 561-338-7797 or visit www.mdgsolutions.com.
MDG is a full-service advertising agency and one of Florida's top creative ad agencies. With offices in Boca Raton, FL and New York, NY, MDG's core capabilities include branding, logo design, digital marketing, print advertising, mobile marketing, email marketing, media planning and buying, TV and radio, outdoor, newspaper, video marketing, Web design and development, content marketing, social media marketing, and SEO. To stay on top of the latest trends in marketing and advertising, contact MDG today at 561-338-7797. For a closer look at how Pinterest has become a major marketing tool, take a look at MDG's award-winning video, "A Marketer's Guide to Pinterest."