Pinterest Traffic Passes Google Referrals, Bing, Twitter And StumbleUpon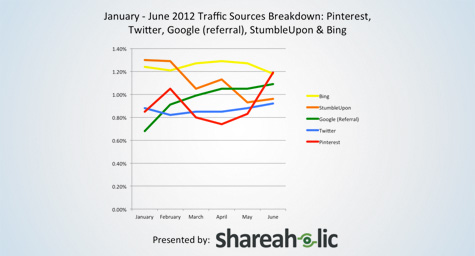 Pinterest has taken the top spot for online referral traffic, according to recent data from Shareaholic. This marks the first time that the image-centric social network is exceeding the referral traffic of Google, Twitter, StumbleUpon and Bing. In recent months, Pinterest's referral traffic has been continually climbing and progressively beating the referral traffic of various social networks, including LinkedIn, Google+ and YouTube. This demonstrated its enormous momentum as a referral powerhouse and captured the attention of the industry. TechCrunch.com reported on the details behind the rapid rise of this emerging social sensation.
The study was based on Shareaholic's network of over 200,000 publishers and indicated that Pinterest's referral traffic rose from .85 percent in January to 1.19 percent in June. While that final figure is far from the phenomenal 46.8 percent referral rate of Google organic search, the study carefully defined Google referral traffic as the referrals derived from most Google properties, but not from organic search or Adwords, and not counting Google+. Google organic traffic remains the largest source of traffic on its network.
Interestingly, Pinterest is now generating more referral traffic than StumbleUpon, a social sharing site that had positioned itself as a major driver of Web traffic. This position is now being challenged by Pinterest's impressive referral results.
Ultimately, the study shows that Pinterest is no substitute for keyword building, yet serves as a powerful form of additional SEO and that marketing on Pinterest should be part of your overall strategy for increasing web traffic and sales.
At MDG, our 360° marketing approach uses just the right mix of traditional and online media to reach your marketing goals. While some industries may fare better on TV and others on social media marketing platforms such as Pinterest, we strive to create a balanced approach where digital and traditional marketing efforts support each other and your message is tailored to the medium. To implement the most effective social media platforms in your marketing strategy, call MDG at 561-338-7797.