Pinteresting for Healthcare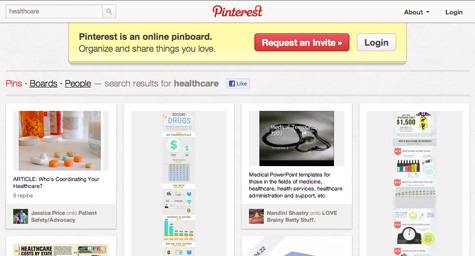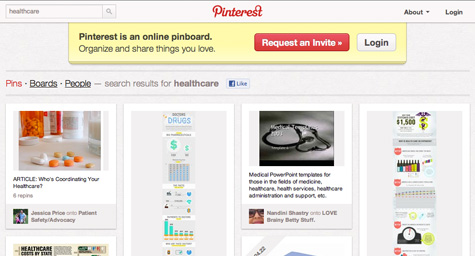 Today, visual content is driving the direction of the Internet as our culture increasingly favors the ease and immediacy of visual messages. Technology is keeping up with this trend with the development of high-capacity connections and high-definition graphics that deliver awe-inspiring images. This combination of visual preference and digital advances has perfectly aligned in the form of Pinterest, the visually driven social media network enjoying explosive popularity. With all eyes on Pinterest, now is the time for healthcare marketers to start leveraging this powerful platform, especially since 80 percent of Internet users gather their health information via online resources. MediaPost.com explained the many benefits of Pinterest for healtcare marekting.
According to comScore, the enormous momentum behind Pinterest made it the third-fastest-growing site in January 2012. In fact, the site jumped from 418,000 unique visitors in May 2011 to 4.9 million in November 2011.
Pinterest is different from other social media networks because it's a destination focused on visuals rather than socializing, as opposed to sites like Facebook and Twitter that are driven by socializing but allow for supplemental videos and photos. The highly visual nature of Pinterest makes it incredibly engaging and inspiring and allows users to express themselves through their personal array of images. Unlike other social networks, Pinterest has been quickly and warmly embraced by marketers and brands, including healthcare brands.
There are numerous reasons why using Pinterest for healthcare marketing is a good idea, beginning with the fact that Pinterest is generating more referral traffic than Google+, YouTube and LinkedIn combined.  While there is no distinct category yet for health, the act of pinning and sharing a brand's visual images can also lead to the building of long-term relationships. In addition, Pinterest's demographics skew heavily toward women, who tend to be the primary healthcare buyers in the family.
The most powerful reason to use Pinterest for healthcare marketing is its ability to reach consumers on an emotional level. The visual nature of the site enables healthcare companies to promote the emotional aspects of their products through poignant images that connect and resonate with people affected by various health conditions. Whether the images feature patient journeys, success stories, medical imagery, or educational resources, Pinterest lets healthcare brands tell their stories by sharing stories of the patient experience. For those seeking care and comfort, these visuals can show them the way to solutions and support while positioning the healthcare brand as a trusted ally on their journey to better health.
To learn how Pinterest can help your healthcare brand connect with more consumers, contact MDG today at 561-338-7797.
MDG, a full-service Florida advertising agency with offices in Boca Raton and New York, NY, specializes in developing targeted Internet marketing solutions, exceptional creative executions and solid branding and media buying strategies that give healthcare clients a competitive advantage. Our core capabilities include print advertising, branding, logo design, creative, digital marketing, media planning and buying, TV and radio advertising, customer relationship management, loyalty programs, public relations, Web design and development, email marketing, social media marketing and SEO. View MDG's creative marketing portfolio.
Read more at MediaPost.com.