Pinterest's New Cinematic Pins Provide Pinpoint Ad Targeting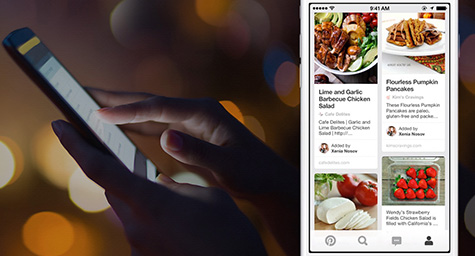 Pinterest has sharpened its ad targeting technology with its new Cinematic Pins. With this latest evolution of Promoted Pins, brands can target specific audiences based on their interests and demographics. Plus, these Cinematic Pins are animated and their videos are viewed in motion as the user scrolls over them, with the video stopping when the scrolling ceases. This gives users more control of the video experience than similar moving ads on rival platforms, which only start to play when users stop scrolling over them. Major consumer brands, including Wendy's, The Gap, Target, and Walgreens, have already started testing Cinematic Pins and seem confident about their ad targeting potential. Adweek.com shared the many strong points of these animated Promoted Pins.
Pinterest's 3-Point Marketing Model
The new Cinematic Pins with their advanced targeting are part of the social media platform's new three-stage advertising offering. It's divided into the following phases, based on a brand's needs:
Phase 1: This marketing model is designed for awareness. It lets advertisers pay on a cost-per-thousand-view basis.
Phase 2: This model is ideal for advertisers who are undecided about a potential purchase. It allows brands to buy ads based on a cost-per-click or cost-per-engagement basis, and then pay when users click on or share a Promoted Pin.
Phase 3: In this model, ads are sold on a cost-per-action basis when an app is installed or a sale is completed. It eliminates any marketing risk because advertisers only pay when their ads deliver value.
To help brands develop their Promoted Pins, Pinterest has introduced a creative studio called the Pin Factory to work with brands on developing the most effective ads. The Pin Factory will be a premium service available to brands at a higher spending level.
According to Pinterest, Promoted Pins have been providing brands with outstanding engagement rates and a very high rate of earned media. For every 100 Promoted Pin impressions, brands have earned 30 free views due to repinning.
Considering how people use Pinterest to explore their interests, these new Cinematic Pins will let brands target users based on their interests, making it much easier to ensure that their social media marketing efforts will reach target audiences in a visually valuable way.
Tap into the latest in social media marketing. Contact MDG.
MDG is a full-service advertising agency and one of Florida's top branding firms. With offices in Boca Raton and New York City, MDG's core capabilities include branding, logo design, print advertising, digital marketing, mobile advertising, email marketing, media planning and buying, TV and radio, outdoor advertising, newspaper advertising, video marketing, retail marketing, Web design and development, content marketing, social media marketing, and SEO. To discover the latest trends in advertising and branding, contact MDG.