Planters Rolls Out A Green Mobile Makeover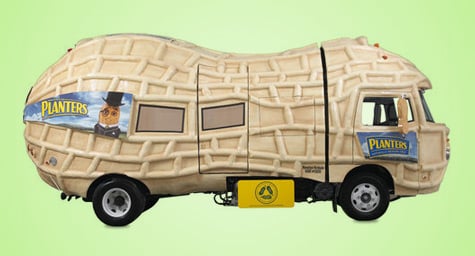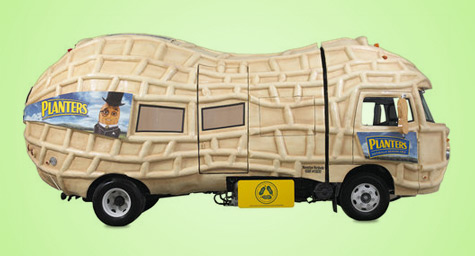 The iconic Planters Nutmobile has gone green. According to The New York Times, the peanut-shaped traveling ambassador for the Planters brand now runs on biodiesel and has a wind turbine, LED interior lighting, solar panels, recycled parts, and wood floors from a 19th century barn. The updated Nutmobile is one of a new wave of mobile green advertising vehicles that demonstrates the growing corporate commitment to environmental responsibility.
"This form of advertising has really taken off," said Joe Doyon, Turtle Transit's general manager. "The advent of camera phones means that vehicles like the Nutmobile get photographed a lot."
The 11,000-pound Nutmobile features a fiberglass peanut body that accommodates three people, with additional room for Mr. Peanut to salute out of the ceiling hatch. The vehicle's diesel engine runs on up to 20 percent biodiesel fuel and returns 10 to 15 miles per gallon. The energy converted by the wind turbine and solar panel drives an alternator that recharges batteries for the sound system and interior lighting.
Now, the Nutmobile is taking its conservation commitment and green advertising to the streets with its 2011 "Naturally Remarkable" tour that runs through the end of summer.
Read The New York Times article about the iconic Planters Nutmobile going green.
MDG, a full-service Florida advertising agency with offices in Boca Raton and New York, NY, specializes in developing targeted Internet marketing solutions, exceptional creative executions and solid branding and media buying strategies that give clients a competitive advantage. Our core capabilities include print advertising, branding, logo design, creative, digital marketing, media planning and buying, TV and radio advertising, customer relationship management, loyalty programs, public relations, Web design and development, email marketing, social media marketing and SEO. View MDG's creative marketing portfolio.