Poland Spring Misses Opportunity to Turn Fortuitous Flub into a Fortune of Social Media Branding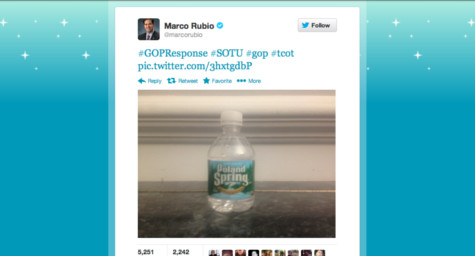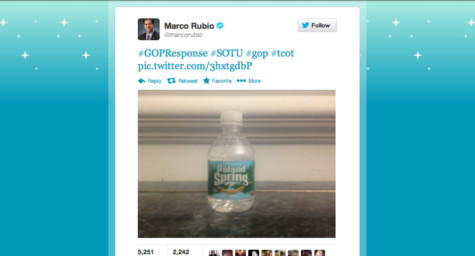 When Senator Marco Rubio's mouth went dry in the middle of his live, televised reply to President Obama's State of the Union address, he suddenly lunged for a bottle of Poland Spring water to quench his thirst. Unfortunately, that awkward move was captured in a photo that became an instant Internet meme and inspired countless mocking tweets and jokes about the prospect of product placement. This whirlwind of social and cultural commentary presented a prime opportunity for Poland Spring to turn this gaffe into a gold mine of social media branding, yet the brand didn't capitalize on its social stroke of luck and stayed silent, missing out on a limitless stream of social media buzz and free publicity. In fact, according to one tweeter, "Poland Spring Water hasn't Tweeted since July, 2010. Right now, their rep is frantically trying to remember the password," @JoryJohn tweeted.
Even Senator Rubio leveraged his buzz-worthy blunder by tweeting a photo of the infamous bottle of water. People praised the senator's good sense of humor, but scolded Poland Spring for not seizing its "Oreo" moment, referring to Oreo's social media score during the Super Bowl blackout when the brand instantly created and tweeted a clever ad that joked about dunking in the dark. MediaPost.com provided further evidence of why brands must be prepared to score a social slam-dunk like Oreo.
Oreo's social success can be attributed to the sharp minds and on-the-spot execution by the advertising agency that kept constant watch over their brand image and the social media scene. Credit also goes to their clever use of Twitter and the immediate nature of tweets that has made the social platform so valuable for handling these sudden events. As a result, Oreo managed to turn a dark situation into a blindingly brilliant social media strategy that earned the brand extraordinary buzz and brand exposure.
As these recent events clearly showed, brands need to be ready, willing, and able to craft a spontaneous brand message in response to a sudden incident since their rapid response can have greater resonance with audiences and ultimately propel the brand into the social media stratosphere. In addition to gaining unlimited exposure and enviable social recommendation for the brand, such social media coups may cost less yet deliver a higher return in retention and response than a well-developed media strategy.
While Oreo triumphed with its on-the-spot social readiness during the Super Bowl, other brands also attempted to share in such social success during the big game. Coca-Cola played on the popularity of social gaming by developing an interactive game experience for consumers called "Mirage." This game featured a virtual battle set in a South African desert with three teams fighting for a bottle of Coke and let viewers vote for the winning team. Unfortunately, the game led to commotion among a variety of civil rights groups and problems with online voting which prevented the brand from a social media win.
Once again demonstrating the power of spontaneous social media response, Pepsi played off Coke's "Mirage" mess with an almost-instant video spoof of the interactive game. Pepsi's version mocked the game's controversial characters in a clever promotion for Pepsi that scored well with viewers and ultimately gave the brand a competitive advantage.
As you can see, a brand can gain unlimited social success and become a major viral sensation by simply being armed and ready to respond to any sudden branding opportunity. The secret is staying constantly aware of the social pulse changing minute-to-minute and having a talented team with the wit and wisdom to spontaneously develop smart social responses. Only then can a brand seize a prime opportunity and become a social phenomenon.
To learn how to leverage social media marketing opportunities, contact MDG.
MDG, a full-service advertising agency with offices in Boca Raton and New York, NY, is one of Florida's top integrated marketing agencies. Our 360° approach uses just the right mix of traditional and digital marketing to reach your advertising goals. While some industries may fare better in print and others online, we strive to create a balanced approach, where traditional, digital, and social media marketing efforts support each other and your message is tailored to the medium. To stay on top of the trends in social media marketing, contact MDG.Read more at MediaPost.com.