MDG Illustrates the Popularity of Preschool with Infographic for Kiddie Academy [Infographic]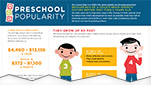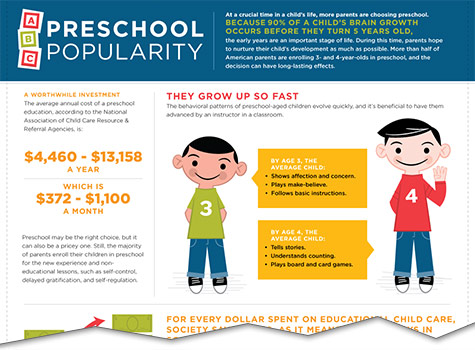 Kiddie Academy has been a leader in educational daycare for more than 30 years by offering exceptional education-based child care for families nationwide. Their program stands above and beyond all others because it provides countless opportunities for learning, growth, and character development. It's these very qualities that so many parents seek in a daycare program, which has contributed to the overwhelming popularity of preschool among parents today. To illustrate the many reasons for this explosion in education-based child care, MDG created an enlightening infographic. It's filled with the facts and figures behind the rapid rise of the industry, as well as the numerous reasons why the majority of parents believe it's the key to a child's academic, social, and lifelong success.
The infographic opens by showing why the benefits of education-based child care greatly outweigh the costs. It explains how the effects of various preschool activities greatly contribute to a child's intellectual, psychological, and physical development, which results in 67 percent of preschoolers being ready for kindergarten compared to only one-quarter of their non-preschooled peers.

Next, the infographic reveals how preschool has a long-term impact on a child's professional, personal, and socioeconomic status that lasts throughout their lives. It displays how daycare keeps kids more committed and successful from grade school to high school, which may be why a parent's preference for preschool has soared from 20 percent in 1970 to more than 50 percent in 2010.
Lastly, some famous faces with preschool in their pasts are featured in the infographic. From Google co-founder Larry Page to actress Dakota Fanning, these accomplished alums prove that daycare makes a difference in the direction of a child's life and shows why it's worth every penny to give kids a more worthwhile future.

To learn more about the power of integrating an infographic into your digital marketing strategy, contact MDG today at 561-338-7797 or visit www.mdgsolutions.com.
MDG, a full-service advertising agency with offices in Boca Raton and New York, NY, is one of Florida's top content marketing agencies. Our 360° approach uses just the right mix of traditional and digital marketing to reach your advertising goals. MDG's core capabilities include branding, logo design, creative, digital marketing, infographic development, media planning and buying, award-winning print ads, radio and TV advertising, online video, Web design and development, email marketing, social media marketing, and SEO. To learn more about the latest trends in infographic marketing, contact MDG or visit www.mdgsolutions.com.