Presidential Pets: A Look Back At Presidential Pets Throughout History [Infographic]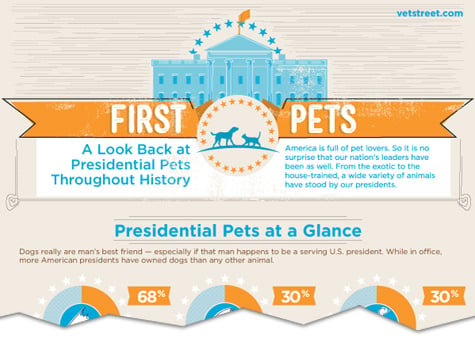 Looking back, American presidents have always held a place for pets in their hearts and in their homes, even when that home was the White House. In the patriotic spirit of the Fourth of July holiday, let's take a glimpse through history at the furry, fluffy and feathered friends who have made 1600 Pennsylvania Avenue their home, sweet, home.
When it comes to presidential preference, canines have certainly been top dog and owned by 68 percent of our leaders, with terriers and spaniels as furry favorites. That figure is closely followed by both birds and horses owned by 30 percent, with cats the choice of 20 percent and reptiles raised by five percent. Yet presidential pets haven't always been so tame, with goats owned by nine percent of our leaders, cows owned by seven percent and a veritable jungle of exotics possessed by the eccentric President Theodore Roosevelt. Of course, there is always the honor of being gifted with wild animals, such as when President Martin Van Buren received a pair of tiger cubs and President Calvin Coolidge unwrapped a wallaby, a pygmy hippo, a bear and lion cubs. All that was missing was a partridge in a pear tree. For a historical look at the personal side of our nation's most powerful leaders, check out this fun infographic by Vetstreet to see how our pet-loving presidents have feathered their stately nests.


First Pets – A Look Back at Presidential Pets Throughout History by Vetstreet
MDG, a full-service Florida advertising agency, with offices in Boca Raton and New York, NY, specializes in developing targeted Internet marketing solutions, exceptional creative executions and solid branding and media buying strategies that give clients a competitive advantage.
Our core capabilities include branding, logo design, creative, digital marketing, print advertising, media planning and buying, TV and radio, public relations, Web design and development, email marketing, infographic design, social media marketing and SEO.