Procter & Gamble Moves More Than 1/3 of Its Ad Dollars to Online and Mobile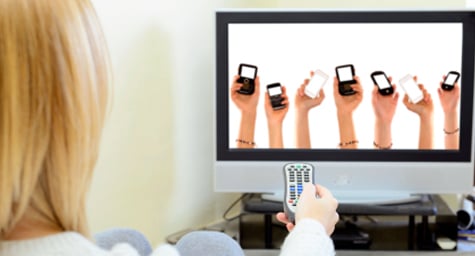 With consumers spending more time online than watching television this year, Procter & Gamble is flocking to follow them by making an aggressive move into digital media. The company is spending between 25 percent and 35 percent of its ad budget on digital vehicles like social media and online ads, with its highest digital spend in U.S. markets. This greatly exceeds the industry average of about 20 percent of marketing budgets allotted to online and mobile advertising and demonstrates how major companies are directing their dollars toward the digital space where consumers are crowding. Not only is the shift more cost effective for companies, but it also allows brands to get feedback much faster. The Wall Street Journal reported on Procter & Gamble's new digital direction.
"The bottom line is we need and want to be where the consumer is, and increasingly that is online and mobile," said a spokesman for P&G.
With the company's current focus on product innovations and cutting costs, digital advertising is ideal because it gives the brands the most bang for their buck by offering vast visibility and reach in a very cost-effective way.
P&G may have built its business through television advertising, but the company realizes that times have changed. In addition to consumers being much more cost-conscious, recent advances in online and mobile offer retailers numerous ways to influence these value-seeking audiences.
While consumers may be looking to spend less money on products, they're expected to spend time online. eMarketer reported that consumers' daily digital media intake is expected to exceed their TV viewing time this year for the very first time. This is just another reason why companies like P&G are moving their marketing online where people will be more likely to see it.
P&G is not the only consumer packaged goods company moving more into digital. Most have been steadily increasing their U.S. digital ad spend over the last few years, allotting about 19 percent of their ad budgets to digital in 2011 and increasing them to around 22 percent last year. Still, P&G's jump to 35 percent this year marks the greatest leap so far.
The company's digital shift reflects the growing popularity of online advertising that continues to lure more advertising dollars toward online and mobile marketing. In fact, mobile is experiencing the greatest growth with U.S. consumers spending more of their time and money on mobile devices.
Now, P&G is hoping that by advertising where consumers spend their time will encourage them to spend their money on P&G products.
Use online and mobile marketing to connect with consumers. Contact MDG.
MDG is a full-service advertising agency and one of Florida's top creative ad agencies. With offices in Boca Raton, FL and New York, NY, MDG's core capabilities include branding, logo design, digital marketing, print advertising, mobile marketing, email marketing, media planning and buying, TV and radio, outdoor, newspaper, video marketing, Web design and development, infographic development, content marketing, social media marketing, and search engine optimization (SEO). To stay on top of the latest trends in marketing and advertising, contact MDG. To learn about how Procter & Gamble is testing ad targeting technology to better target consumers, see "Brands Test Ad Targeting Technology at the Store Shelf."