Procter & Gamble Deals Directly with Disaster Relief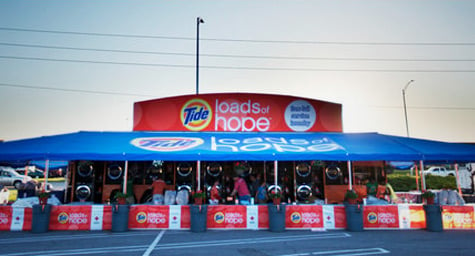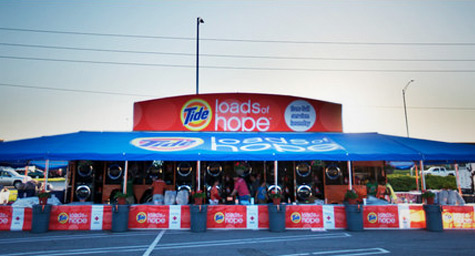 Following the treacherous tornado that killed 138 people and devastated Joplin, Missouri, Procter & Gamble is doing more than donating funds or goods by actually providing direct relief. The New York Times reports that two of the company's brands, Tide and Duracell, quickly arrived on the scene with their own fully equipped trailers and crew to provide free wash-and-fold laundry service, as well as free batteries, flashlights, and mobile charging stations. A refreshing aspect is that while marketers are organizing this philanthropic effort, there is no blatant selling beyond the presence of product logos.
"I guess you could call it a marketing expense because it's run by our marketing team," said Mandy Treeby, the external relations manager for Tide, who is overseeing the brand's relief efforts. "But Tide has cleaned clothes for Americans every day for the last 65 years, and this is so core to our purpose as a brand."
As a result, Tide's Facebook page is filling up with flattering comments from users who praise the brand's commitment to giving back.
For Duracell, the company views its involvement as a natural extension of the brand's purpose. In fact, spring and summer are the seasons that Duracell urges consumers to have batteries on hand so they are prepared for impending storms.
The Duracell trailer made its first appearance after the tornadoes that struck Tuscaloosa, Alabama. During its almost two weeks on the scene, it distributed more than 3,000 flashlights and batteries to approximately 3,000 families, while proving charging stations to help those affected get online to contact family and friends.
"It's just a great opportunity to really have some personal relationships with consumers that have probably bought Duracell for years but probably didn't expect them to show up on their doorstep when they needed them most," said Kurt Iverson, a spokesman for Duracell.
By demonstrating such care and concern in the face of disaster, Tide and Duracell have been able to strengthen their emotional connections with consumers in a sincere and authentic way, while achieving much more than mere marketing ever could.
MDG, a full-service Florida advertising firm with offices in Boca Raton and New York, NY, specializes in developing targeted Internet marketing solutions, exceptional creative executions and solid branding and media buying strategies that give clients a competitive advantage. Our core capabilities include print advertising, branding, logo design, creative, digital marketing, media planning and buying, TV and radio advertising, customer relationship management, loyalty programs, public relations, Web design and development, email marketing, content development, social media marketing and SEO. View MDG's creative marketing portfolio.