Project Runway Turns to Pinterest and Other Visual Social Media Networks [Social Media Marketing]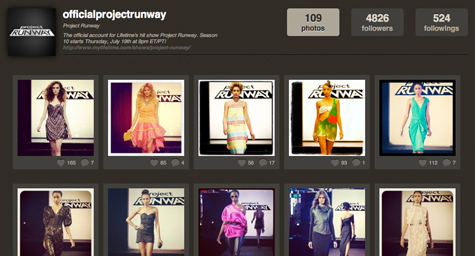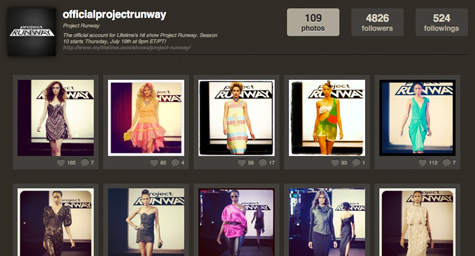 The fashion-forward Project Runway is using visual social media marketing to promote its upcoming tenth season. Lifetime has decided to promote the popular TV show on the hugely popular Pinterest, Instagram, Viddy, and Piictu social media platforms instead of the more traditional Facebook and Twitter channels as it has in the past. Until now, these visual social media networks have been generally untouched by TV networks, yet Lifetime executives believe they're the perfect fit for the show's core audience. AdAge.com covered the highlights of this high-fashion social media marketing initiative.
"In the last few months there's been a rise in visual networks," said Evan Silverman, senior VP-digital media at A&E Networks, parent of Lifetime. "The visual capabilities of these platforms can showcase the personality of the brand in a different way and are good vehicles for crowdsourcing."
Last month, Lifetime launched the show's "Make It Work" social media marketing campaign on these visual networks, encouraging fans to share images and videos that inspired their own fashion choices and asking amateur designers to showcase their personal fashion flair.
The TV network has been posting photos of the cast's work on Instagram under the handle @OfficialProjectRunway, as well as posting and repinning photos on its Pinterest "Fashion Time" board. They're also posting fashion-oriented picture streams and challenging fans to promote their styles on Piictu under the handle @ProjectRunway, in addition to using Viddy to introduce fans to the season's designers. During the season, new videos will be posted to Viddy to give viewers the opportunity to provide feedback. The "Make it Work" hashtag will be used on all of these networks to connect the content.
While a few other TV networks have been testing the promotional waters of Pinterest and Instragram, this marks the first time that Viddy and Piictu have been integrated into a television show. It's also the first time that visual social media marketing has assumed a starring role in TV advertising.
"We've had great success leveraging Twitter for Project Runway in the past," explained Mr. Silverman of the network's positive social media marketing experience. "Of course, Twitter and Facebook are still valuable, but these social media platforms encourage different behavior from users."

To discover innovative strategies for successful social media marketing, contact MDG today at  561-338-7797 or visit www.mdgsolutions.com.
MDG, a full-service Florida advertising firm with offices in Boca Raton and New York, NY, specializes in developing targeted Internet marketing solutions, exceptional creative executions and solid branding and media buying strategies that give clients a competitive advantage. Our core capabilities include branding, logo design, creative, digital marketing, print advertising, media planning and buying, TV and radio, public relations, Web design and development, email marketing, social media marketing and SEO.
Read more at Adage.com.