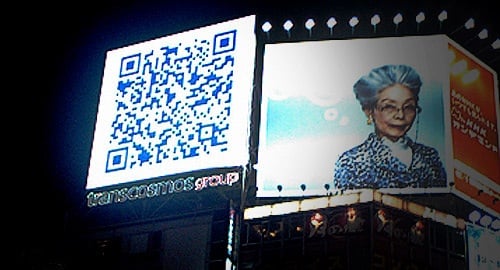 Latest News from Dodd Communications
You are starting to see them everywhere. They look like square jigsaw puzzles, sometimes in color but most often in black-and-white. They are in magazine advertisements, on billboards, on websites, and on business cards.
They are quick response codes, or QR codes (sometimes called QRCs). They act as immediate conduits to websites, discount coupons, videos, or other marketing messages.
What makes these codes so compelling is that they are an immediate response mechanism. If people see something they like, they simply snap a picture of the code with their cellphones. The marketing information (such as a discount code) then displays on the phone's screen.
It is no wonder so many of today's top brands are using QR codes. These include GMC, Google, Ralph Lauren, The Weather Channel, Best Buy, Ford, Chevrolet, Starbucks, Facebook, Twitter, and more.
Creating QR Codes
Creating a QR code is simple. There are a variety of QR code generators on the market. Some of the most common are Kaywa, Zing, BEETAGG, and Google Charts.
To create the code, you simply go to the site, input the URL to which you would like the user to go, and hit "generate code." You'll get back a .png or .jpg image that can be inserted into your print or online materials.
QR codes can be massive in size — hung on a billboard — or as small as 1.25 inches square. Another neat thing is that QR codes are still readable even with a small amount of data loss. This means they can be branded. You can even insert the logo within the code itself.
Marketing Benefits of QR Codes
What are the marketing benefits of QR codes?
1. QR codes offer an immediate response mechanism.
As soon as an advertisement or marketing pitch catches their eye, consumers snap and view. There is no delay between the interest and the response.
2. They capitalize on today's mobile culture.
Cellphones have been described as today's laptop. People's entire lives are stored on their phones, from contacts to family photos. People's phones are the one device that is with them all the time.
3. They are highly trackable.
Not only are QR codes trackable themselves, but they provide tracking for other types of media, such as billboards, newspaper ads, and direct mail. If people used the code, you know they viewed the ad.
Are QR Codes on Your "To Do" List?
The question, then, is not "why use QR codes?" It's why not use them?  QR codes cost little or nothing to include, and the benefits are great.
In addition to marketing campaigns, QR codes are also a great way to turn static print pieces (such as business cards, company brochures, or trade show collateral) into exciting and dynamic ones. Just add the code!
MDG is a full-service South Florida advertising agency, with offices in Florida and New York, that specializes in developing targeted internet solutions, exceptional creative executions, and solid branding and media buying strategies that give clients a real competitive advantage.
For more information on how you can better track your marketing messages, call 561-338-7797 or log on to www.mdgsolutions.com.