QR Codes in Rio de Janeiro Sidewalks Help Travelers Find Their Way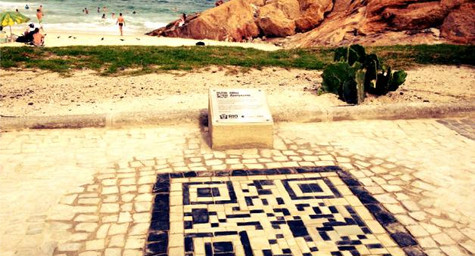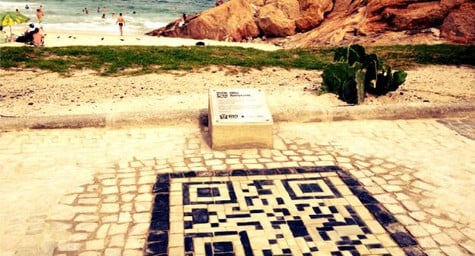 The sidewalk mosaics of Rio de Janeiro have long been one of the city's signatures, but now these stunning stones have been fashioned into outdoor QR codes to help prevent visitors from getting lost. Referred to as Project QRIO, this was a public/private partnership among the Secretariat of Municipal Conservation, digital technology agency Zoio, and PR firm Grupo Maquina. It was intended to put important city information directly at people's fingertips and ultimately reduce the need for unsightly signage. The result was the innovative use of mobile technology in a way that respected Rio's cultural and cosmopolitan beauty. IBTimes.com reported on this high-tech help for travelers to explain why it's literally a new digital direction in tourism marketing.
"We were able to associate the Portuguese stone to a cool technology that is the QR code," said Marcus Melchior, the municipal secretary of conservation. "The Project QRIO will disseminate culture and knowledge for all citizens and all tourists who come to visit."
The first QR code was embedded at Arpoador, a popular tourist destination located between Ipanema and Copacabana beaches. Each stone code took approximately seven days to construct because of the extreme precision required for proper scanning. The QR-code stones were placed into the sidewalk in a way similar to how they inlaid the decorative designs of waves and fish nearby.
The sidewalk barcodes can be instantly scanned after downloading the QR code app to a smartphone. A quick scan brings up a screen featuring a map of the city and relevant tourist information. This data includes travel tips, photographs, and historical details, all available in Portuguese, Spanish, or English.
Mr. Melchior explained that the QR codes could be used as guides to tourist attractions, as well as toward major events around the city. He also alluded to the possibility of expanding the project beyond its initial plans.
These plans included the launch of similar QRIO projects at another 30 locations throughout Rio by the end of 2013, reaching a total of 50 sites by July 2014 when the FIFA World Cup is held in the city. The timing has been ideal since the city has steadily grown in popularity among international travelers and Rio de Janeiro is slated to host the 2016 Olympic Games.
Let mobile technology and the use of QR codes in creative outdoor marketing take your brand in bold, new directions. Contact MDG.
MDG is a full-service advertising agency and one of Florida's top digital marketing companies. With offices in Boca Raton, FL and New York, NY, MDG specializes in developing integrated 360° marketing solutions that give clients a competitive advantage. Our core capabilities include branding, logo design, digital marketing, print advertising, mobile marketing, email marketing, media planning and buying, TV and radio, outdoor marketing, online video, website design and development, content marketing, social media marketing, and search engine optimization (SEO). To stay on top of the latest trends in marketing and advertising, contact MDG.
Read more at Ibtimes.com.