Red Bull Dares to Make Another Daredevil Video, This Time from Mount Everest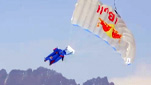 The stunning viral video success of Red Bull's first record-setting daredevil jump from the verge of space led the beverage brand to dive into another promotional stunt. This one was just as radical and risky since it was the very first jump from Mount Everest, the highest elevation in the world at 23,667 feet. After the first jump received 194 million video views to become the fourth most popular branded video of all time, Red Bull hopes to score another viral victory with this thrill-seeking stunt. Ad Age posted the details on this high-flying feat.
This time, B.A.S.E. jumper Valery Rozov took the leap of faith on May 5. Red Bull had spent more than two years and many millions of dollars getting ready for the free-fall. Their experts had developed a special new jumpsuit that could mold the human body into an airfoil to produce the lift needed for human flight.
To prepare for the jump, Rozov took his crew of assistants, four sherpas, photographers, and cameramen to the Himalayas where they spent almost three weeks.
The dramatic video was just posted this week and has already received more than 384,000 views. Take a peek at Red Bull's viral video venture and adventure.
Use online video to boost attention and awareness for your brand. Contact MDG today at 561-338-7797 or visit www.mdgsolutions.com.
MDG, a full-service advertising agency with offices in Boca Raton and New York, NY, is one of Florida's top video marketing agencies. Our 360° approach uses just the right mix of traditional and digital marketing to reach your advertising goals. While some industries may fare better in print and others online, we strive to create a balanced approach, where traditional, digital, and social medial marketing efforts support each other and your message is tailored to the medium. To learn more about the latest trends in video marketing and advertising, contact MDG today at 561-338-7797 or visit www.mdgsolutions.com.
Read more at Adage.com.