Rendezvous With Art and Ardent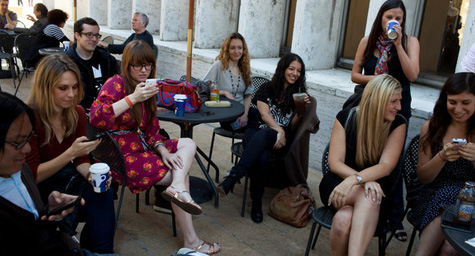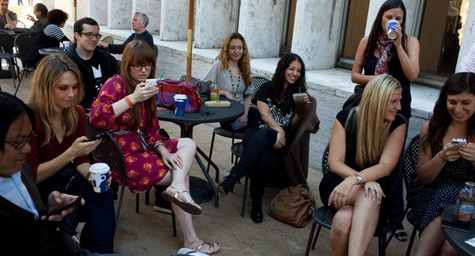 Modern art has taken on a whole new meaning as young, professional art lovers have turned to social media to keep up with the latest news and events regarding exhibits, lectures, museums, and art galleries. The New York Times reported on how social media platforms are helping people stay up to date on the arts scene and keep in touch with fellow fans.
Many young people find it difficult to meet people who share their artistic interests. These tech-savvy individuals have discovered that social networks can help them meet like-minded people, as well as keep track of the latest exhibits and openings. These networks offer a convenient way to socialize with fellow art lovers by allowing them to organize meet-ups and establish ongoing museum groups.
There are currently more than 300 groups worldwide, with at least 45 in New York City alone, dedicated to organizing museum visits online. MeetUp.com is one such platform that enables millions of  people to schedule museum visits and organize art-event gatherings. Most major cities have similar online clubs with thousands of members each.
As social media has become increasingly popular among young people as a way to discover and discuss local art events, more and more museums are expanding their presence on digital platforms such as Twitter and Facebook in an effort to attract more visitors and increase their following.
"We use Twitter to not only to connect with one another, but to share what we feel brings value to a larger online arts community," said Ms. Merlino, senior marketing manager at the Guggenheim Museum. "It has enabled us to form both professional and personal relationships that have provided countless opportunities for learning and collaboration."
In fact, it's the innovative ways that arts organizations have been using the Web to produce interactive exhibits and create social media connections that have even inspired young people to create these social networks.
Julia Kamansky, the founder of the Arts, Tech and Culture and Technology group, was so intrigued by how museums were leveraging the digital arena that she began to blog about it. This helped her realize that other young people shared her interest, which led to the creation of her art-focused group in 2008. With more than 2,000 members, her group serves as a forum for professionals in the arts and technology industries to come together and discuss their current projects.
Other groups focus more on the social aspects of museum gatherings and use them to develop friendships, share ideas, and expand their social circles. These groups are also useful when members travel to new cities, since they provide a forum for learning about an area's arts scene and meeting new people who share their artistic interests.
With social media's success in meeting the needs of both art lovers and museums, these platforms are helping protect the value of culture as our lives continue to evolve in more digital directions.
To learn strategies for strengthening your digital presence, contact MDG.
MDG, a full-service Florida advertising agency with offices in Boca Raton and New York, NY, specializes in developing targeted Internet marketing solutions, exceptional creative executions and solid branding and media buying strategies that give clients a competitive advantage. Our core capabilities include print advertising, branding, logo design, creative, digital marketing, media planning and buying, TV and radio advertising, customer relationship management, loyalty programs, public relations, Web design and development, email marketing, social media marketing and SEO. View MDG's creative marketing portfolio.
Read more at NYTimes.com