Research Reveals Major Mobile Impact On Consumer Action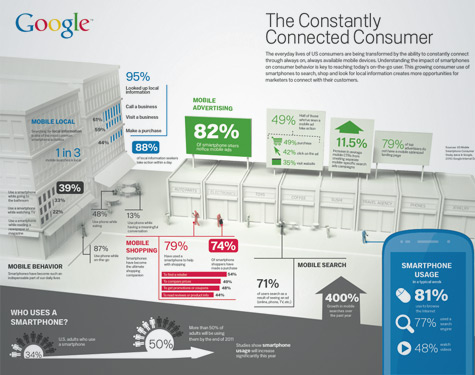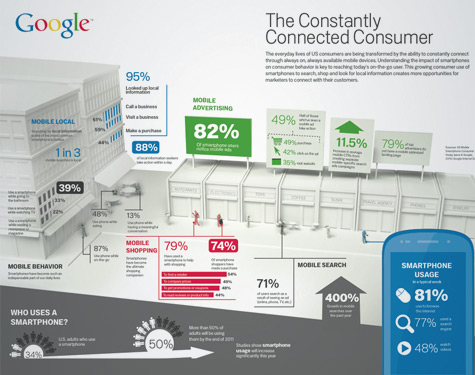 According to Search Engine Land, a recent study of 5,000 smartphone users who access the mobile Internet shows heavy usage for purchase-driven shopping, action-oriented searching, and local information seeking. The marketing study was conducted by Google and Ipsos OTX at the end of 2010, and the results demonstrate the prevalence and influence of smartphones in our daily lives.
The study indicated that 93 percent of respondents use their smartphones at home, with 81 percent of users browsing the Internet, 77 percent using mobile search and 72 percent engaging while using other media.
Marketers will be happy to hear that 90 percent of mobile search users have taken action based on mobile search and half have made a purchase. These mobile searches are mostly looking for news, dining and entertainment information, shopping, technology, and travel.
The study also showed that 95 percent of mobile users seek local information on their smartphones, with 88 percent of them taking action within a day.
Similar to other findings, shopping comprised 79 percent of mobile activities, with 70 percent of respondents using their smartphones while in a store and 74 percent to make a purchase. The resulting purchases are predominantly made in-store, yet half are made online and one-third are bought directly via smartphones.
The level of engagement and effect of mobile advertising were also measured. In addition to 82 percent of respondents noticing mobile ads, 49 percent made a purchase, 42 percent clicked on the ad, 35 percent visited the website and 27 percent contacted the business.
Based on the study, smartphones have become a critical part of our daily activities. Marketers are quickly realizing that by leveraging the power of smartphones, they can have consumers in the palms of their hands.
MDG, a full-service Florida advertising agency with offices in Boca Raton and New York, NY, specializes in developing targeted Internet marketing solutions, exceptional creative executions and solid branding and media buying strategies that give clients a competitive advantage.Our core capabilities include print advertising, branding, logo design, creative, digital marketing, media planning and buying, TV and radio advertising, customer relationship management, loyalty programs, public relations, Web design and development, email marketing, social media marketing and SEO. View MDG's creative marketing portfolio.