Research Shows Social Media Ads Drive Consumers to Products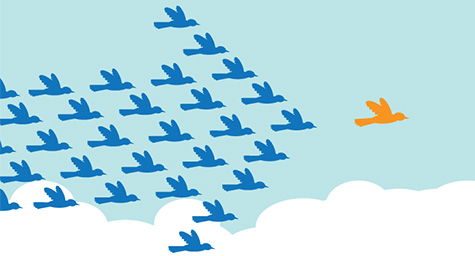 Social media is a platform for personal persuasion, with almost 40% of U.S. social media users saying that social media mentions affect their choices when researching products and services. Yet while some think that it's only the reviews and recommendations from friends and fellow shoppers that have any impact, a new report from Mintel reveals that native advertising on social media by brands can also drive the decisions of shoppers. Countless companies have seen the success that native ads can deliver, which is why the total advertising spend on social media in the U.S. will surpass $11 billion by 2017. It's also why native advertising is expected to grow even faster, soaring from $1.8 billion in 2013 to $9.4 billion by 2018. For more on how social media advertising can link brands to reach and results, MediaPost.com shared highlights from the recent report.
Social media ads clearly click with consumers. The report shows:
Both women and men ages 18 to 34 are the most likely to turn to social media to direct their purchase decisions.
21% of men ages 18 to 34 say they have purchased a product by clicking on a native ad on social media.
According to Mintel technology analyst Bryan Harland, the way to get the most out of social media advertising is to help users find the information and insight that's relevant to their needs. The report shows that this help need not only come from friends and friendly reviews, but can also come from brands in the form of native advertising and prove to be just as persuasive in the purchasing process.
To show the extent of the influence that native advertising on social advertising can have on consumers, the report reveals the following findings:
50% of social media users say that social media has an influence on their purchasing decisions to some degree.
Almost 25% report looking for more information about a brand on a search engine after viewing a video, image, or other social post that a company placed on social media.
In addition to boosting both awareness and purchase of a brand's products and services, social media also leads consumers to directly connect with brands after discovering them through native advertising. The report shows:
79% of social media users say have visited a company's social media page or shared content from a company
28% report visiting a company's website after seeing content from the brand.
It's important to note that while 9% of social media say they have made a purchase by clicking on a social media ad, another 11% report purchasing a product after seeing it advertised but without clicking on the ad. This indicates that native advertising maybe much more successful than direct conversions imply.
Finally, the report shows that social media spans all ages and demographics to influence all kinds of consumers.
While younger demographics were raised on social media and are naturally strongly affected by the things they see and share, the parents are surprisingly influenced by their children's social media habits. This makes parents much more likely to use and be influenced by social media. The report indicates that 19% of parents show an increased responsiveness to native advertising, along with a higher tendency to purchase products and services that their social media friends use, as compared to adults without children.
With the immense impact of native advertising on social media users, it's clearly a valuable investment that's expected to continue clicking with brands and consumers for many years to come.
Learn more about social media marketing and native advertising tactics that will boost your brand. Contact MDG.
MDG is a full-service advertising agency and one of Florida's top branding firms. With offices in Boca Raton and New York City, MDG's core capabilities include branding, logo design, print advertising, digital marketing, mobile advertising, email marketing, media planning and buying, TV and radio, outdoor advertising, newspaper, video marketing, Web design and development, content marketing, social media marketing, and SEO. To discover the latest trends in advertising and branding, contact MDG.