Researchers Map Out U.S. Hubs for Hate Tweets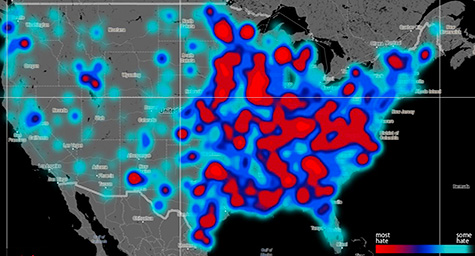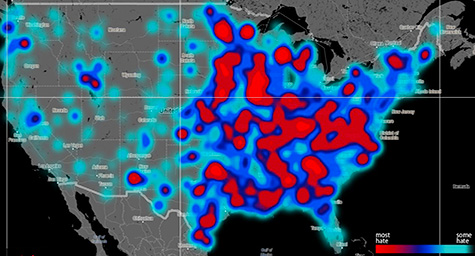 We all know that people use the popular social media platform to share their views and news, but now there's a new map of the U.S. that can identify where hate speech on Twitter is coming from. Geography students at Humboldt State University analyzed 150,000 tweets with location information from June 2012 to April 2013 that contained one of 10 hate words. Their goal was to track the exact geographic locations where hate speech was happening in the country. The Huffington Post reported their results, which showed how hate can appear in the most unlikely of places.
The researchers focused on tweets that featured one of 10 hate words, which included homophobic, racist, and disability-related slurs. Then, these tweets were closely reviewed to determine whether the words were used in a negative, neutral, or positive way. The negative tweets were them mapped by location.
The result was a map that revealed where different types of hate speech were most prevalent in the country. The map allowed viewers to search by the categories of homophobic, racist, and anti-disability slurs and then zoom in to the county level.
The map showed that most hateful tweets came from the eastern half of the U.S. and that the majority of negative tweets sprang from small towns and rural locations, with fewer from more densely populated cities. It also indicated that homophobic tweets had a wider distribution across the nation than racist tweets, which most frequently came from the southeastern portion of the country.
Of course, Twitter and other social media platforms don't actually promote negative attitudes toward individual cultural differences, they're simply able to reveal what's being said across the country, as the map shows. Social media provides forums for different people to develop dialogues with one another, which encourages understanding and acceptance.
To add Twitter to your social media marketing, contact MDG.
MDG, with offices in Boca Raton and New York, NY, is a full-service advertising agency and one of Florida's top creative ad agencies. MDG specializes in developing integrated marketing solutions, exceptional creative executions, and solid branding and media-buying strategies that give clients a competitive advantage. Our core capabilities include print advertising, branding, logo design, creative, digital marketing, creative media planning and buying, radio and TV advertising, Web design and development, email marketing, social media marketing, and SEO. For the latest on Twitter and social media marketing trends, contact MDG.
Read more at the HuffingtonPost.com.