Restaurant Advertising: Echo, Palm Beach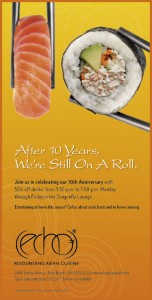 Echo Celebrates A Decade Of Resounding Success
While most restaurants come and go, one Palm Beach dining destination is ringing in its 10th anniversary as it continues to boom. Echo, the upscale Asian restaurant and lounge operated by The Breakers Palm Beach, has resonated with discriminating diners from the very beginning. What's the secret ingredient to their success?
Echo has created a distinctive dynasty by taking diners on a culinary journey through China, Japan, Thailand and Vietnam for an unforgettable feast of flavors. Within the sleek and stylish restaurant, The Dragonfly Lounge offers a spirited selection of creative cocktails, sake and fine wines.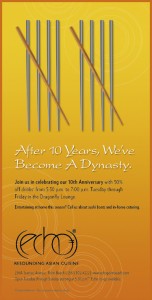 To promote Echo's good fortune, MDG created an enticing print campaign that invites diners to celebrate their 10th anniversary with special discounts.
Come join the Asian celebration at Echo. Call 561-802-4222 for more information.
MDG, a South Florida ad agency, with offices in Boca Raton, FL and New York, NY, has been handling the branding and  advertising for Echo Restaurant since its inception in 1999.
Michael Del Gigante is president and executive creative director of MDG in Boca Raton, Florida. MDG is a full-service advertising agency that specializes in developing targeted, integrated marketing solutions, exceptional creative executions and solid branding and media planning  strategies that give clients a real competitive advantage. For a full list of our capabilities, click here. For more information, call 561-338-7797 or log on to www.mdgsolutions.com.