Restaurant and Hospitality Marketing: L'Escalier at The Breakers, Palm Beach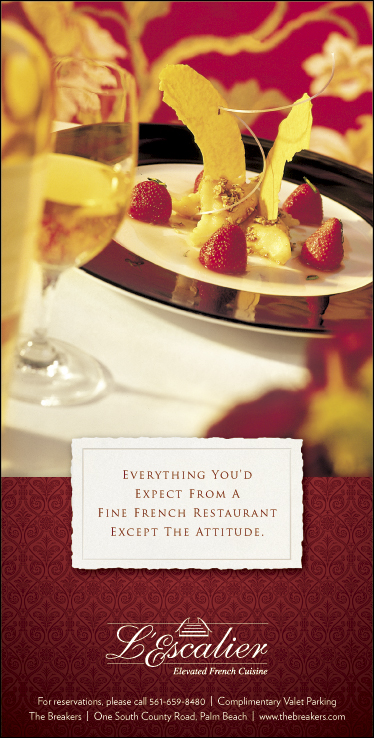 Bon Appétit With A Bon Attitude At L'Escalier
While fine French restaurants can take dining to new heights, the service is often just as high and mighty. But not at L'Escalier, the signature restaurant at The Breakers Palm Beach, that offers one of the finest dining experiences in the country.
L'Escalier is unique because it combines the latest in scientific food preparation techniques, a well-trained, unpretentious staff and surroundings that can't be duplicated.
"Photographing the food was like shooting artwork," said Michael Del Gigante, president and executive creative director, "it was a feast for the senses." The colors, textures and shapes of the food were well thought out and inviting. Our creative strategy was to simply showcase L'Escalier's one-of-a-kind dishes and use the copy to convey the unpretentious atmosphere of this unique restaurant.
While we wanted to say that L'Escalier defies expectations, it was just as important to show that this outstanding restaurant goes above and beyond to exceed them. After all, this is much more than your neighborhood bistro:
•    L'Escalier is the recipient of the coveted AAA Five Diamond Award and has received the Wine Spectator's Grand Award since 1981.
•    The kitchen is helmed by Chef de Cuisine Greg Vassos, a star on the culinary scene who trained under such legends as three-star Michelin chef Eric Ripert, two-star Michelin chef Sergi Arola, and French master Bruno Menard.
•    The seasonally changing a la carte and prix fixe tasting menus feature the freshest ingredients prepared with the finest French techniques.
For French fine dining that exceeds all expectations, call L'Escalier at 561-659–8480 for reservations or more information.
Michael Del Gigante is president and executive creative director of MDG in Boca Raton, Florida. MDG is a full-service advertising agency that specializes in developing targeted marketing solutions, exceptional creative executions and solid branding strategies that give clients a real competitive advantage. For more information, call 561-338-7797 or log on to www.mdgsolutions.com.