Retailers Can Bag More In-Store Sales by Taking Stock of Digital Shoppers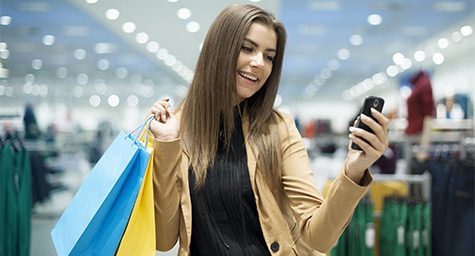 Digital has taken charge of shopping today as consumers are spending more of their time using digital devices to pre-shop before they purchase in-store. Many retailers aren't realizing the importance of these interactions and they're leaving shoppers disappointed that the digital promise is not delivered on-premise. Yet with digital driving 36% of in-store sales, retailers are risking $1.1 trillion by not making the most of the mobile and social media experience. In fact, a new Deloitte Digital study shows that stores are focusing more on m-commerce sites and conversions than the value of the virtual journey. And it's that customer journey through mobile, social, and other digital channels that truly determines how shoppers spend. MediaPost.com featured more findings from the study to help retailers redirect their attention toward how digital will drive their sales and success.
The study defines digital interactions as the way that shoppers use smartphones, tablets, and computers to connect to websites, social media, and email. These digital interactions currently influence $1.1 trillion in sales, but the rapid penetration of mobile devices has sales predicted to rise a full 50% by year-end and reach $1.5 trillion.
Despite that profit potential, retailers continue to focus on m-commerce sales, which only account for $40 million. Compare that to the $593 billion in sales driven by mobile.
By overlooking the importance of mobile, social, and digital channels, retailers are disregarding the needs of shoppers. And they're paying the price by losing sales today and losing shoppers to the competition tomorrow.
To emphasize the influence of digital channels, the study of 2,000 people showed that 84% of digital shoppers used a mobile device at some point in the shopping process. In addition, stores saw a 40% higher conversion rate and a 22% increase in sales from shoppers that used digital devices as part of the purchasing process. Also, nearly three-quarters of respondents said that information from social media channels had some degree of influence on their shopping behavior and customer loyalty.
"Social media is a good example," said Jeff Simpson, director with Deloitte Consulting's retail practice and co-author of the study. "It really popped up in our survey as a post-purchase channel."
Mr. Simpson explained that people go back to social media and share their recent purchasing experiences. This fuels the interest of others in making similar purchases. While people may start their research and comparison shop elsewhere, the purchasing experiences of others have the most impact on both their initial idea to buy and their final purchasing decision.
Lastly, the study revealed that sales at specialty stores were the most affected by shoppers' digital habits. Digital devices influenced about 50% of all sales at stores selling electronics and appliances, as well as furniture and sporting goods. While digital had the least impact on sales at general merchandise, department stores, and warehouse clubs, these devices still influenced almost one-quarter of all sales.
Digital is redefining the way that shoppers spend today. As a result, retailers and branding firms must increase their digital marketing efforts. It's the only way to keep customers dropping in and shopping in their stores.
Learn about the latest in digital marketing. Contact MDG today at 561-338-7797, or visit www.mdgsolutions.com.
MDG is a full-service advertising agency and one of Florida's top branding firms. With offices in Boca Raton, FL and New York, NY, MDG's core capabilities include branding, logo design, digital marketing, online advertising, print advertising, email marketing, media planning and buying, TV and radio advertising, outdoor, newspaper, video marketing, Web design and development, infographic development, content marketing, mobile marketing, social media marketing, and SEO. To learn more about digital marketing, contact MDG today at 561-338-7797.