YouTube: 2012 in Review [Video] [Infographic]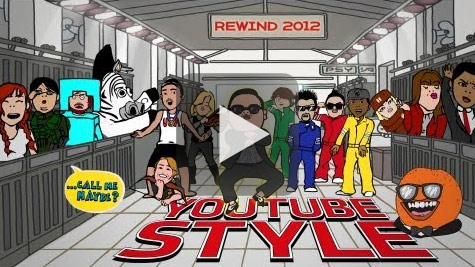 YouTube has become a cultural touchstone of what's making headlines and headway in the world today. The channel's news partners race to post live footage via online video and on-the-scene reporters capture breaking news on their mobile devices and send them with a quick click. Then, YouTube's huge online community heads to the channel to see the highlights of the latest happenings. For a look at the big picture of the biggest news stories of the year, YouTube.com featured an interesting infographic, which the channel created with Nieman Journalism Lab and Storyful. It's filled with fascinating findings about YouTube's role in the world of news. On a lighter note, YouTube also captured the year's top events in a lively video mashup. From the straightforward to the satirical, these illustrate how YouTube has its finger on the pulse of what the world wants.

In 2012, the news ranged from presidential politics and promotional leaps, to a harrowing hurricane, and perilous protests. Yet through it all, YouTube captured every moment and milestone of the year through online video. According to the infographic, 7,000 minutes of news-focused footage was uploaded to YouTube daily, there were 2.7 million views of videos tagged with Romney or Obama, The Weather Channel ran more than 70 hours of live-streaming video on Hurricane Sandy, and 8 million people used YouTube to watch the Red Bull Stratos jump.
In the video mashup, the top ten events that defined 2012 are displayed in a humorous way. YouTube chose the events by studying the number of views, shares, searches, comments, and re-mixes to find the ten videos that got people buzzing and sharing.
To incorporate an online video or infographic into your digital marketing plan and leverage the power of YouTube, the second largest search engine, contact MDG Advertising today at 561-338-7797 or visit www.mdgsolutions.com.
MDG, with offices in Boca Raton, FL and New York, NY, is a full-service advertising firm and one of Florida's leading digital marketing companies. MDG specializes in developing targeted Internet marketing solutions, exceptional creative executions, and solid branding and media-buying strategies that give clients a competitive advantage. Our core capabilities include print advertising, branding, logo design, creative, digital marketing, infographic development, media planning and buying, radio and TV advertising, video marketing, Web design and development, email marketing, social media marketing, and SEO. View a sampling of MDG's creative videos or infographics.