Rising In The Ranks Through Competitors' Paid-Search Campaigns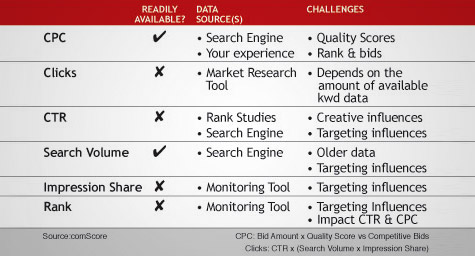 The secret to a successful paid-search campaign is sizing up how your competition is spending, according Lori Weiman, CEO at The Search Monitor, during a joint webinar with Eli Goodman, comScore's Search Evangelist. MediaPost.com recently reported on their approach to taking a careful look at the market in order to better budget resources and distinguish key channels.
While the formula usually entails counting the ads and costing them out on a published rate card, Ms. Weiman recommends looking at the bid amount times the quality score that impacts the actual cost vs. the competitive factors in the cost per click. In addition, she advises analyzing the click-through rate times the search volume and impression share. By putting this all together, it's also possible to determine the position in the page.
To assess the market, looking at ad dollars spent across vertical markets makes more sense than relying on clicks and impressions. It's much easier to develop an effective strategy when you look at converting keywords in any vertical market and consider a competitor's dayparting, ranking and impression share strategy.
To locate opportunities, analyze frequency and average rank around certain keyword terms. These indicate the company's exposure online in search rankings.
During the joint webinar, Mr. Goodman shared the following comScore statistics concerning the size of the search market and paid-search advertising trends and spends:
Search activity continues to rise 15% year-over-year, with a 3% rise in new search activity from children, late adopters and older mature adults
Approximately 26.7 billion searches were performed in January 2011, up 15% compared with the year-ago month
Nearly 34% of searches occur on non-traditional search engines such as Facebook and YouTube
Google served 18.1 billion paid-search impressions in January 2011, down from 22 billion impressions
Yahoo served 8.2 billion impressions, remaining flat from December 2010 to January 2011
Bing served 4.9 billion impressions, also staying level for that time period
"Leveraging tools like spyfu and semrush give you a relatively accurate portrait of your competition's keyword and bid strategy," said Charlie Ellis, it's important to identify key areas of opportunity BEFORE you establish an ad group hierarchy designed to emulate the success of a competitor."
By paying attention to your competitors, you can develop a successful paid-search campaign that brings more attention to you.
Charlie Ellis is the SEO strategist at MDG.
MDG, a full-service Florida advertising agency, with offices in Boca Raton and New York, NY, specializes in developing targeted Internet marketing solutions, exceptional creative executions and solid branding and media buying strategies that give clients a competitive advantage.Our core capabilities include print advertising, branding, logo design , creative, digital marketing, media planning and buying, TV and radio, public relations, Web design and development, email marketing, social media marketing and SEO. To view MDG's portfolio, click here.