Rounding Up Top Franchise Solutions at the IFA Convention's Business Solution Roundtables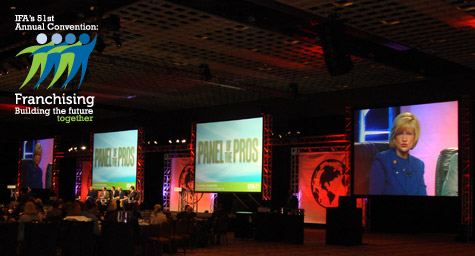 The International Franchise Association (IFA) hosted its annual convention in Las Vegas this past week. The event featured a multitude of insightful discussion panels and nationally acclaimed speakers, Mitt Romney and Steve Forbes.
As a supplement to the powerful lineup of industry leaders, business solution roundtables provided franchisees and franchisors with practical and actionable information to enhance their brands, improve operations, and increase profitability. This insightful forum enabled industry peers to share innovative business solutions and practical tips designed to conquer issues facing the franchise industry during recessionary economic conditions. The roundtables were intended to inspire new ideas and offer solid takeaways in areas such as finance, franchise sales, marketing & public relations, international expansion, legal, and operations.
Charlie Ellis, SEO strategist at MDG, and Martin Greenbaum, president of Greenbaum Marketing Communications, led the marketing and PR roundtable, Maximizing Conversion and ROI of Your Franchise Development Website.
This digital marketing session focused on the following questions:
•  What would you do to minimize bounce rates?
•  What can you do to maximize your organic search potential?
•  What importance does brand positioning have in relation to franchise-development websites?
•  What are some of the on-site best practices that can lead to immediate improvement of your conversion rates?
•  How do you effectively drive site visitors into a virtual brochure and how does that help you increase conversion?
•  Implementing Google Analytics on your website and optimizing it to improve and track ROI
Franchisors already realize the value of establishing and maintaining an online presence, and this enlightening discussion helped them discover ways to make their Internet efforts more profitable, powerful, and competitive. Combining the extensive knowledge of a digital marketing expert and the insight of a franchise marketing executive, Maximizing Conversion and ROI of Your Franchise Development Website provided attendees with tangible takeaways from the leading edge of CRO (conversion rate optimization), ORM (online reputation management), and web analytics.
"The discussion enabled everyone to benefit from collective experience," said Charlie Ellis, MDG's SEO strategist. "It was really humbling to sit with so many executives within the industry. The challenges they face certainly inspired me to test innovative tactics to increase the profitability of search and social marketing initiatives."
With over 40 roundtables available each day of the conference, it was impossible to attend all of them, but some of the most valuable sessions MDG attended were:
•  Integrating PR, Advertising, and Marketing to Drive Qualified Leads
•  Protecting your Online Reputation
•  Social Media: How to use it for Franchise Lead generation
•  Are you using a Multi-Channel Marketing Strategy?
•  Key Metrics in Managing Your Business
•  Using Social Media in Your Franchise System
•  Customer Relationship Marketing
•  Who's Afraid of Social Media Marketing?
•  Managing Content and Your Brand with the Latest Technology
•  Using Social Media to Fuel Franchise Sales
It was a remarkable opportunity to spend some time with innovative minds in the franchise industry. The IFA has evolved from a close-knit community of like-minded entrepreneurs into a forum for progressive thinkers focused on expanding franchise development operations in the new age of American small business. If you're determined to master the art of franchise marketing in the digital era, the IFA annual convention is absolutely for you. The conference is truly unparalleled within the industry.
Charlie Ellis is the SEO strategist at MDG. MDG, a full-service Florida advertising agency, with offices in Boca Raton and New York, NY, specializes in developing targeted franchise marketing solutions, exceptional creative executions and solid branding and SEO strategies that give clients a competitive advantage.
Our core capabilities include print advertising, branding, logo design , creative, digital marketing, media planning and buying, TV and radio, public relations, Web design and development, email marketing, social media marketing and SEO. To view MDG's portfolio, click here.
Connect with MDG on Facebook and Twitter and YouTube