Samsung Spends Big to Showcase Their Smartphones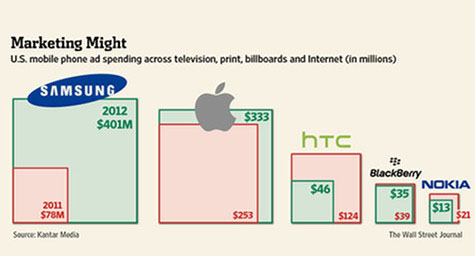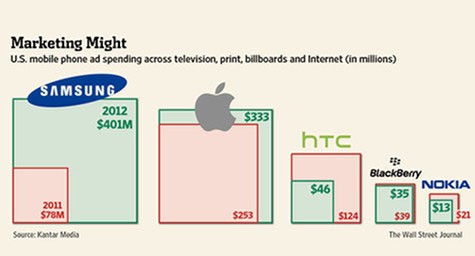 In the hope that a bigger marketing budget would dial up their smartphone business, Samsung took a more aggressive advertising approach by spending heavily on television, print advertising, and outdoor media in the U.S. in 2012. Samsung's increased ad spend was in response to being repeatedly outspent by rival Apple and it has apparently paid off by catapulting the Korean company to a huge market lead in the high-stakes smartphone business. The Wall Street Journal reported on how the larger investment in Samsung's advertising efforts has earned the brand a much larger market share worldwide.
"They understand how to build a strong product…and have been willing to invest to drive their success," explained Michael Sievert, chief marketing officer of T-Mobile USA Inc., a unit of Deutsche Telekom.
Samsung's bolder advertising strategy was matched by their audacious ads that directly made fun of Apple while positioning Samsung as "The Next Big Thing" in smartphones. This approach clearly resonated with their tech-savvy target market by focusing on their endless desire to own the latest and greatest in technology.
In addition to immediately luring more consumers to Samsung's side of the smartphone race, the company's major marketing investment should keep working to their benefit in 2013. They have opted to continue their higher ad spend and have plans to steadily introduce new products in an effort to close the technology gap.
This spending has already been seen in their recent Super Bowl ads and in their enormous brand presence at the Mobile World Congress wireless industry conference held in Barcelona, Spain. At the conference, Samsung's prominent booth featured private office suites for meetings and a full coffee bar.
Their scheduled product introductions included the recent rollout of a new Galaxy smartphone, which Samsung promoted with a large industry bash at Radio City Music Hall in New York City.
Complementing Samsung's heavier ad budget, the company also spent more on below-the-line marketing than other smartphone brands. These resources covered in-store promotions, advertising, and training for representatives since these initiatives play a prominent role in closing a sale.
Samsung also took a more aggressive stance with overall branding last year. The company required all four of their U.S. carriers to use the same name in promoting the launch of their Galaxy S3 model. This strategy wasn't immediately embraced since it conflicted with their prior practice of allowing the networks to use their individual names. Yet it was ultimately accepted after Samsung explained their objective of bringing more consistency to their branding.
Now, industry insiders are watching and waiting to see whether Samsung's higher ad spending will keep paying off for the smartphone maker. If so, it would allow the brand to expand its lead even farther as the momentum for mobile only gets stronger.
To create a successful integrated advertising strategy, contact MDG.
MDG, a full-service advertising agency with offices in Boca Raton and New York, NY, is one of Florida's top integrated and content marketing agencies. Our 360° approach uses just the right mix of traditional and digital marketing to reach your advertising goals. While some industries may fare better in print and others online, we strive to create a balanced approach, where traditional, social media, and digital marketing efforts support each other and your message is tailored to the medium. Our core capabilities include branding, logo design, creative, digital marketing, integrated media plans, radio, TV, and print advertising, Internet advertising, outdoor media, Web design and development, email marketing, social media marketing, and SEO. View MDG's creative advertising portfolio.
Read more at WSJ.com.