Search in a World of Converged Media [Digital Marketing]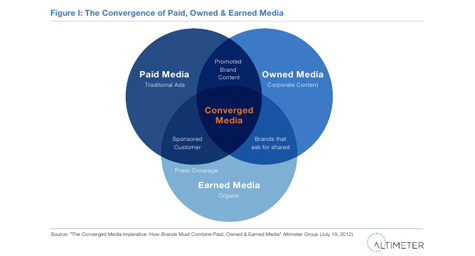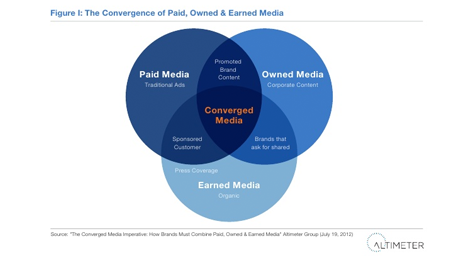 Today's consumers tend to form opinions about brands based on the multitude of media they experience each day, ranging from traditional to digital to mobile. As a result, more and more digital marketing professionals are realizing the importance of connecting with audiences through a mix of paid media, earned media, and owned media to ensure that their messages reach all consumer touch points. This concept of converged media also applies to search. To show how converged media will impact the reach of search marketing, MediaPost.com provided the following insight.
Paid media is defined as direct pay-for-placement marketing, while earned media is the free exposure received from various PR or search marketing activities, and owned media is the brand's proprietary assets they can use for personal promotion. All of these have the potential to increase exposure and build awareness on their own, but using them together only multiplies their power and reach.
Now, digital marketers face the challenge of integrating these multiple media sources to connect with today's dynamic digital audiences. Such marketers must act as virtual orchestrators and possess knowledge of how each of these channels can impact their target markets and achieve the brand's goals, all while staying sharply aware of new opportunities and ever-changing market conditions. It's a balancing act that demands the responsive integration of messaging and ongoing optimization in order to resonate with consumers in the right way, in the right place and at the right time.
In addition, digital marketers will need to merge their media departments since the elements of search, display, and traditional advertising will no longer be separate entities. This partnership among specialties will enable marketers to provide more targeted media recommendations to their clients, which will help them make more of an impact in the increasingly competitive and crowded online arena.
Finally, the real value of a brand's owned media depends on how strategically it's used. Content is king, and brands that continually produce original and sharable content have the potential to become thought leaders in their respective industries. This content has the power to be used on numerous channels to build brand awareness, enhance the company's image, connect with consumers, increase customer loyalty, boost search rankings. and expand the brand's overall reach. If the brand can continually produce content that is fresh, relevant, interesting, and worthy of social media sharing, they can leverage this content as paid media and maximize both their reach and resources to their fullest potential.
The trend toward converged media may seem daunting at first, but it has the potential to result in enormous benefits for the brands and marketers that have the knowledge to mix such a multitude of media. 
To discover how the power of converged media can increase your brand's search results, contact MDG today at 561-338-7797, or visit www.mdgsolutions.com.
MDG, a full-service Florida advertising agency with offices in Boca Raton and New York, NY, specializes in developing targeted Internet marketing solutions, exceptional creative executions and solid branding and media buying strategies that give clients a competitive advantage. Our core capabilities include branding, logo design, creative, digital marketing, print advertising, converged media planning and buying, TV and radio, public relations, Web design and development, email marketing, social media marketing, search engine optimization (SEO).
Read more at MediaPost.com.