Search is Going Social in Bing Sidebar with Facebook Friends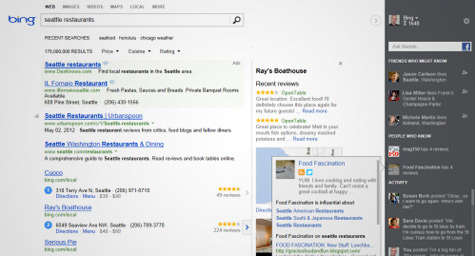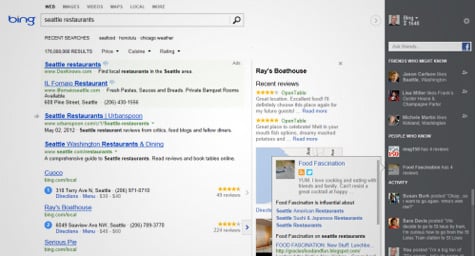 The worlds of search marketing and social media continue to collide as Microsoft debuts a 'new Bing' featuring a special sidebar filled with information from Facebook friends and other social media networks. PCWorld.com and InformationWeek.com reported on the search engine shakeup that should bring search marketing and social media closer than ever.
The purpose of Microsoft's move was to enhance the search process by allowing Bing users to simultaneously interact with Facebook users. The result is a new three-column format, with search results in the first column, along with information related to the search in the middle column, and social media search results in the final column that is being referred to as the "Sidebar."
While the first and middle columns reflect the previous search layout, the sidebar represents the greatest change since it brings social media directly to the search reults page. This sidebar lets users post questions to their Facebook friends, add comments on Facebook, and pin Bing search results to their posts. It also allows users to view a list of friends and experts who may be familiar with the specified search topic based on their prior postings on Facebook, Twitter, LinkedIn, Foursquare, Blogger, Quora, and Google+. In addition, Sidebar has an activity feed featuring posts that Facebook friends have placed on Bing.
In the interest of privacy, Microsoft said it has strived to maximize its privacy protections. The company explained that while users are on Bing and signed into Facebook, Bing will only show content that friends could access directly on Facebook.
With the new Bing Sidebar, Microsoft is trying to convey the message that social media factors are playing an increasing major role in search decisions.
"People have become as important as pages and search needs to evolve to embrace these changes," according to Bing corporate VPs Derrick Connell and Harry Shum."
"The challenge has been to figure out how to integrate the information you care about with the people who can be most helpful to you in getting stuff done."
Many are viewing Sidebar as yet another way for Microsoft to compete with Google. Currently, Google has the advantage in terms of search popularity, but Bing's alliance with a social media powerhouse like Facebook magnifies the issue that Google's hope to attain social supremacy with Google+ has yet to be achieved.
For now, Bing users are awaiting the rollout of this new search-social hybrid and everyone's watching to see the results.
To learn more about Bing Sidebar and the latest ways to use search marketing and social media to capture your audience's attention, contact MDG today at call 561-338-7797, or visit www.mdgsolutions.com.
Read more at PC World and Information Week.