Search Just Got More Social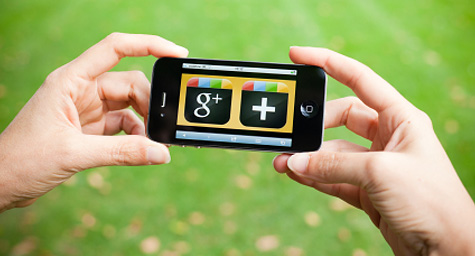 Search is becoming increasingly social, with Facebook dominating the trend by offering marketers an outstanding advertising platform for engaging and reaching consumers. Now Google is striving for a share of social search by positioning the new Google+ as the social network that benefits brands. MediaPost.com reported on how Google+ is trying to become a marketing must-have on the social search scene.
It's important to note that there's no denying the value of Facebook's enormous social presence and advanced advertising tools. In fact, some say that the social network is actually driving the social search trend with its social-focused performance metrics that many brand marketers find essential. Now that Facebook has opened the door to this promising new marketing segment, Google sees an opportunity to expand its superior search capabilities to the booming realm of social media.
Google+ is already making an impact, with more than 40 million registered users and over 3.4 billion uploaded photos. It's already proving its appeal to audiences, so marketers are the next target.
To accomplish that goal, Google recently announced the debut of brand profiles of Google+. These brand profiles will consolidate all of a search marketer's efforts into a single space by serving as both the social connection for a brand's presence throughout the Google product network, as well as the back-end control panel connected to Google Analytics and AdWords.  These brand profiles will streamline the entire marketing process and may ultimately position Google+ as more marketer-friendly than Facebook.
In addition, Google will place its +1 button directly to the right of all paid media and natural listings. This will be enormously valuable in terms of paid SERPs. This clear recommendation will benefit brands by offering another element of endorsement to their advertising. Marketers should also note that +1 activity will also affect quality score for both paid and organic advertising.
While Facebook will always have its place in search marketing as an outstanding social resource, Google+ is coming on strong with a powerful suite of products that may help to redefine the future of social search and give Google a fresh image as a brand's best friend.
To learn how incorporating social and search can improve your marketing effectiveness, contact MDG today.
MDG, a full-service Florida advertising agency with offices in Boca Raton and New York, NY, specializes in developing targeted Internet marketing solutions, exceptional creative executions and solid branding and media buying strategies that give clients a competitive advantage. Our core capabilities include print advertising, branding, logo design, creative, digital marketing, media planning and buying, TV and radio advertising, customer relationship management, inbound marketing programs, public relations, Web design and development, email marketing, social media marketing and SEO. View MDG's creative marketing portfolio.
Read more at Media Post.