See Why Media Buying is More Complex Than Ever Before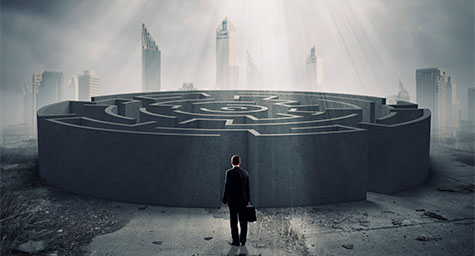 With viewing technology advancing quickly and much more competition for viewers, the term "media mix" has never been more fitting or more formidable. And this fragmented landscape makes media buying more complex than ever before. With TV viewing available from tablets, smartphones, and computers, plus the rise of time-shifted viewing and the arrival of digital video subscriptions, the media viewing landscape is more mixed-up than ever. To see the trends shaping and shifting the current media-buying landscape, MediaPost.com provided the following picture.
Millennials Demand Digital
Millennials are those coveted 18–34 year-olds who are shaping the future of media, so their habits and preferences are important to watch. The report revealed that they spent one-third of their original TV series viewing time watching on digital platforms. While digital devices are loved by older audiences, Millennials are making them popular for TV viewing. The report revealed:
Around one out of 6 Millennials did not watch any original TV series from traditional TV sets in the past 30 days
49% watched TV on tablets
44% watched TV on computers
31% viewed on smartphones
Opting for Online TV Viewing
Online TV viewing has been gaining momentum, with more than 50% of fans favoring its flexibility and convenience. Other reasons for its popularity vary by age. Younger viewers appreciate its affordability and the ability to skip commercials, while older viewers like how it lets them catch an episode they missed on regular TV.
Trend Toward Time-Shifted Viewing
The emergence of time-shifted viewing has brought a newfound freedom to television viewing that lets audiences watch on their time and their terms. It's no surprise that the more demanding younger viewers are more likely than other demographics to shift their TV viewing times and watch whatever they want, whenever they want. The report revealed:
46% of Millennials typically watched TV in a time-shifted manner
35% of 35-54 year-olds watch at another time
30% of those older than the age of 55 postpone viewing
45% of digital video service subscribers opt for time-shifted viewing
27% of non-subscribers choose to view at other times
It's important to note recent boom in binge watching, which involves recording a series of shows from a series and then watching them consecutively. The report revealed that 84% of viewers prefer to binge watch from their TV set than other devices. Demand for Digital Video SubscriptionsAll eyes are on digital video subscriptions since about 40% of households subscribe to a paid digital video subscription service. And Millennials make up a majority of those subscribers, with nearly half belonging to Netflix. The network of Netflix subscribers has these habits:
44% prefer watching through Internet-connected TV devices like Apple TV and Google Chromecast.
27% watch on computers and gaming consoles
21% view on Blu-Ray players
Moving Away from Pay TV Subscriptions
While once gaining momentum, pay TV subscriptions have quickly been eclipsed by more modern digital devices. The younger the market, the less the interest in this service. It's no surprise that Millennials have the least amount of interest. A whopping 77% of Millennials have never had the service, while 67% tried it and then cut the cord. Media buying today is more complex than ever, which is why it's important to keep a close eye on what's catching viewers' eyes.
Watch what's happening in today's media buying. Contact MDG.
MDG, a full-service advertising agency with offices in Boca Raton and New York, NY, is one of Florida's top branding firms. MDG's capabilities include print advertising, direct mail marketing, branding, logo design, creative, digital marketing, media buying and planning, radio and TV advertising, Web design and development, online video advertising, email marketing, content marketing, social media marketing, and SEO. To learn about the latest trends in advertising and branding, contact MDG.